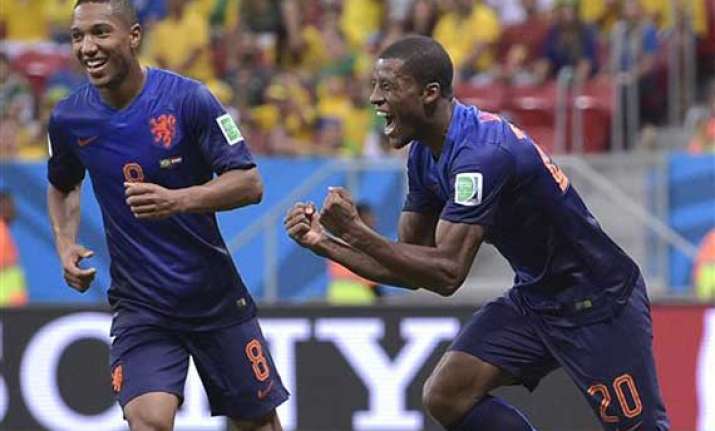 Brasilia: Brazil lost its face, its pride one more time in the space of four days after the Netherlands embarrassed the hosts 3-0 in the third-place play-off match of the World Cup, as boos and jeers from the fans dressed in canary yellow reverberated across the Estadio Nacional here.
Coming off the devastating 7-1 hammering to Germany in the semifinals, the humiliation for the hosts was complete on the eve of the grand finale.
Captain Robin van Persie (3rd minute), Daley Blind (17th) and Georginio Wijnaldum (90Ư) found the target for the Netherlands, the result only adding to the already gloomy mood of thousands of home fans as they left the stadium deeply dejected.
Van Persie started the scoring for the Netherlands after he converted from the spot barely few minutes into the game.
Arjen Robben was the one credited with getting the Netherlands the penalty after he was pulled by host skipper Thiago Silva, who returned after missing the German massacre due to double bookings.
The Manchester United player calmly slotted in the ball, high above Julio Cesar's dive. This was van Persie's fourth goal in six appearances in the ongoing tournament.
There was though a hint of doubt over if Robben was dragged inside the box.
Lack of discretion on part of stopper David Luiz, who is headed for Paris Saint-Germain FC on a world record 50 million pound, led to the second goal.
In what turned out to be a horrible piece of defending, Luiz's feeble header from a cross landed on the path of Daley Blind, who promptly volleyed it in to make the scoreline 2-0 for the Oranje, in the process scoring his maiden international goal.
Wijnaldum added to the home team's woes when he successfully launched his right-footer into the net in the added time.