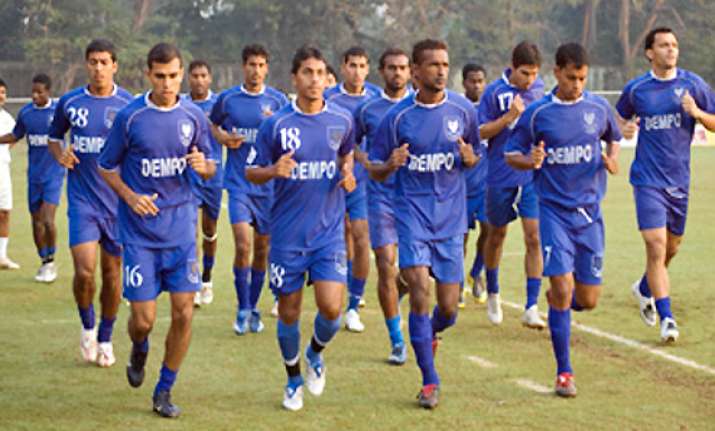 Margao, Oct 26: Dempo Sports Club are all geared up to take on Mumbai FC tomorrow in their second encounter of the I-League football championship at Nehru Stadium here.  Both teams started their I-League campaign in style. 

Dempo defeated Salgaocar Sports Club 1-0, while Mumbai FC scored a resounding 4-1 win over Air-India on last Sunday.  Dempo coach Armando Colaco is expected to field the same team that beat Salgaocar, against Mumbai FC. The win against Salgaocar has boosted  their confidence. 

"The boys really played well in humid condition. We missed a few chances until Ranty Martins got the winner in the second half. On the whole I am happy," stated Colaco.

Martins will lead the attack along with Joaquim Abranches. Mahesh Gawli, who marshalled the defence well to earn man of the match award in the last match, will lead the charge along with Cresson Antao, Debrata Roy and Sameer Naik. 

Mumbai FC striker Sampath Kuttymani, who scored a brace against Air-India, will be closely watched. 

"Mumbai FC is a tough side, who like us, have got a good start as they beat Air India comprehensively. We need to play the same way as we did against Salgaocar to get past them," stated Colaco.

Mumbai FC started the season well and retained the Nadkarni Cup. But coach Khalid Jamil is not going to take things easy as they face a tough side in Dempo, one of the best teams in India who have most of their players playing for the national team.

"The win against Air-India is past and we cannot harp on our success. Dempo are one of the best teams in India with most of their players playing for India," he said.

We are well prepared and looking forward for a positive start," stated Jamil.