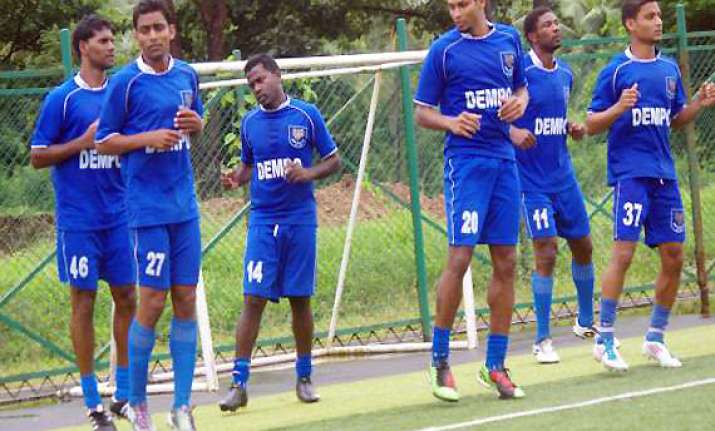 Margao, Oct 27: Dempo today scored a resounding 4-0 win over Mumbai FC to script their second straight win in the second round of the I-League, played at Nehru Stadium, here.

Dempo who led 1-0 at half time scored through Clifford Mirandfa(38th), Ranty Martins(49th, 72th) and Anthony Pereira).

Much was expected from the Mumbai team who beat Air-India 4-1, but the Mumbai side were a pale shadow of themselves as they failed to play a cohesive game today.

They made one change today from the match they played last, bringing in Ebi Sukore but that did not have much impact in the midfield except for his long try which hit the bar in the first half.

Sampath Kuttymani who was the hero in the last match scoring a brace came close to scoring once in each half but rival keeper Subhasish Roy Chowdhury was equal to the task bringing off brilliant saves.

Dempo started off well as they held the midfield superiority throughout with Climax Lawerence leading the charge from behind as they linked along with their upfront making inroads with repeated forays and had handful of chances to take the lead initially but Joaquim Abranches who missed a open sitter was the main culprit as he muffed at least three close chances.

Mumbai Keeper Ishan Debnath also came with couple of fine saves to deny Dempo from taking the lead until their citadel fell in the 38th minute.

Climax who was instrumental in all the four goals Dempo scored laid a pass to Clifford Miranda who scored from close to have Dempo leading 1-0 at half time.

Dempo continued to dictate terms after the change of ends and increased the lead in the 49th minute.

Climax Lawerence from the right relayed the ball to Clifford Miranda on the left who sent a perfect cross to Ranty Martins into the box who met the ball with a pin point header to find the back of the net.

Dempo continued to put the rivals under pressure and Ranty Martins again scored in the 72nd minutes.

A quick passing boot between Climax Lawerence and Anthony saw the latter send a cross to Ranty Martins who bulged the net with a low shot.

Anthony who had his hands in the earlier goal then found the net with a deft placement off a through pass from Climax Lawerence.

Dempo who won both their outings are leading the table with six points while Mumbai FC with one win and a loss have three points.