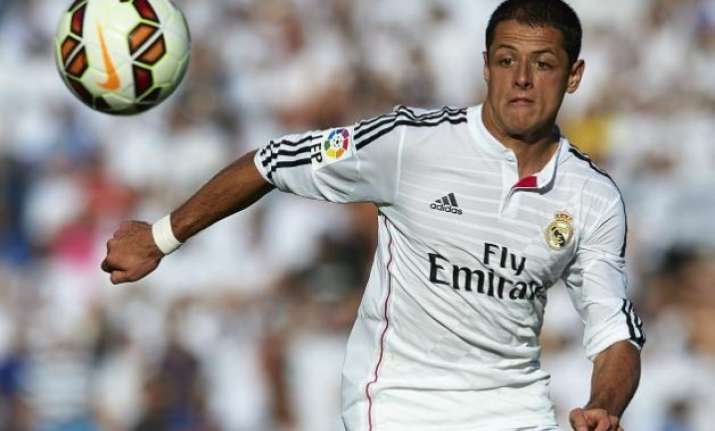 Madrid: Real Madrid have a tough decision to make in the next few days as the club decides whether or not to take up the option to buy Mexican international striker Javier Hernandez.
Hernandez, whose nickname 'Chicharito' means 'little pea' (because of his green eyes) joined Real Madrid on loan from Manchester United at the end of August with an option for the Spanish side to make the move permanent for a price fixed at 20 million euros, reports Xinhua.
Despite Chicharito scoring two goals away to Deportivo la Coruna early in the season, for most of the campaign it has looked unlikely that Real Madrid would be tempted as coach Carlo Ancelotti played his "unnegotiable" starting trio of Gareth Bale, Cristiano Ronaldo and Karim Benzema.
Hernandez had played less than 400 minutes in all competitions and during the March international break complained that all he wanted was a chance to show what he could do.
That chance came with injuries to Bale and Benzema and Hernandez has responded in the best way possible.
Last Wednesday he scored an 88th minute winner against Atletico Madrid to qualify Real Madrid for the Champions League semi-finals and on Sunday he netted a brace to help Real to a vital 4-2 win in Vigo.
Hernandez has now scored 6 goals in 510 minutes football, one every 85 minutes, and that has caused a rethink at the Santiago Bernabeu. There are still barriers to overcome, with Benzema expected to be fit in a fortnight will he be able to convince Ancelotti he deserves to be first choice and will he settle for returning to the subs' bench after his recent displays?
Real Madrid could try and use the fact that Hernandez is out of contract with Manchester United in 2016 to try and lower the asking price, but his recent goals mean there will be no shortage of clubs in Europe vying for his signature and that could keep the price higher than Real Madrid want.
In the striker's favour are his goals: one goal every 85 minutes is good for anyone in the top flight and can they afford to let a player who works hard, is ambitious and has shown his worth to simply walk away?