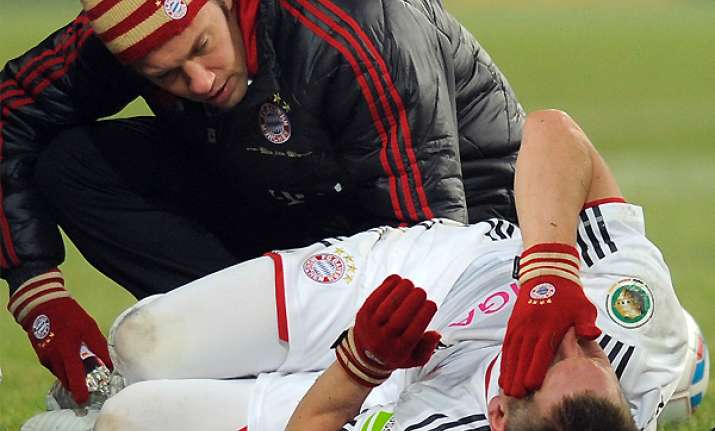 Frankfurt (Germany), Mar 9: Bastian Schweinsteiger is preparing to come back and Bayern Munich is beginning to talk about the title again despite a seven-point deficit to Borussia Dortmund.

Schweinsteiger is back in training after a right ankle injury although it is uncertain whether he will be in the team this Saturday in the home match against Hoffenheim.

But his return was enough to revive talk about the championship. Bayern all but wrote off its title hopes only a week ago, when it lost 2-0 at Bayer Leverkusen.

"I am not giving up on the championship, no way," coach Jupp Heynckes said. "I am going to fight until the end."

"All we need is a good run," the veteran coach added.

Bayern also needs Dortmund's exceptional run to end. Last year's champions have won eight straight games and visit relegation-threatened Augsburg on Saturday.

"The championship is not decided yet, but we need some good results to start putting pressure on Dortmund," Bayern president Uli Hoeness said.

Bayern officials were striking a much more pessimistic tone after the loss in Leverkusen, with sporting director Christian Nerlinger saying, "As of today, we don't need to talk about the title anymore."

Schweinsteiger has been out for a month, the second time he has missed a large chunk of the season because of injury after breaking his collarbone in the first half of the championship.

The Germany midfielder plays a central role in Bayern and the team seems to be more stable defensively when he is in the lineup.

Bayern's problem this season has been away from home, where it has a 5-4 record with three draws. Also, top striker Mario Gomez has been in poor form in recent games after scoring 18 goals.

Dortmund on the other hand has returned to the form of last season when it raced to the title. It is undefeated in 18 matches.

Bayern is beginning to show fraying nerves. Thomas Mueller and Jerome Boateng nearly came to blows on the field in Leverkusen and Bayern was forced to issue a statement this week denying media speculation that Heynckes may be forced out at the end of the season despite another year on his contract.

Bayern's opponent Hoffenheim is undefeated in five matches and is coached by former Bayern defender Markus Babbel.

"I don't expect a Bayern low on confidence. They've played well, they just haven't used their chances," Babbel said.

Borussia Moenchengladbach lost ground with a 1-0 loss at Nuremberg last week and is now eight points behind Dortmund and one point behind Bayern, with 10 matches remaining.

Schalke also dropped back when it lost 2-1 at Freiburg and is now three points off Moenchengladbach, with virtually no chance of winning its first title in over five decades.

Stuttgart kicks off the 25th round against Kaiserslautern on Friday.

Leverkusen needs to bounce back from a 7-1 rout at Barcelona when it visits Wolfsburg on Saturday.

Also Saturday, Mainz hosts Nuremberg, Moenchengladbach plays Freiburg and Hertha Berlin visits Cologne.

On Sunday, Werder Bremen hosts Hannover and Schalke plays Hamburger SV.