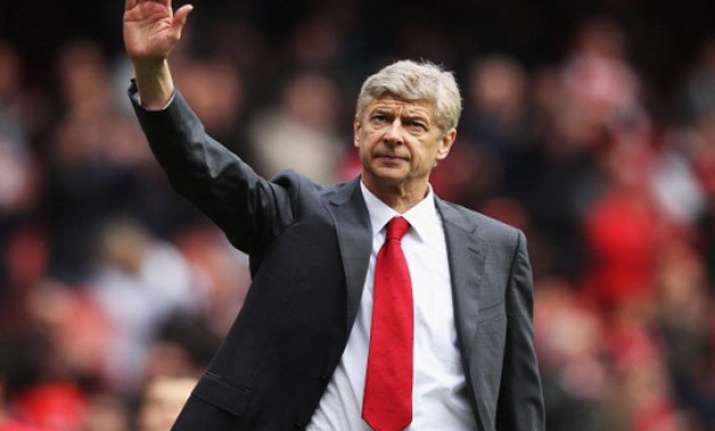 London: After 19 years at the helm, Arsenal manager Arsene Wenger has hinted that he may leave the club when his contract expires at the end of the 2016-17 season.
After leading Arsenal to the sixth FA Cup and ninth major trophy of his managerial reign earlier this year, Wenger told shareholders at the club's annual general meeting that the current team has the ability to win what would be their first English Premier League (EPL) title since 2004.
The 65-year-old is also determined to ensure that the club is in a strong position when he leaves and wants to make sure that the next manager hits the ground running.
"I know we face some adversity sometimes but I am more motivated than ever, more committed than ever. I was a bit more relaxed 19 years ago when you know if it doesn't work, it doesn't work.
"Today I know what it means for people. I know how sad people are when we don't do well, when we lose a game. The responsibility on my shoulders is much bigger. I am resolute to commit absolutely until the last day of my contract to bring back big success to this club, and leave as well one day in a position where it can do even better when I leave. It is for me very important that I leave the club in the shape that the guy who comes after me can do better," Wenger told shareholders at Arsenal's annual general meeting here on Thursday.
The Frenchman divided his stint at the helm of Arsenal into three phases, branding the initial 1996-2005 era as his easiest time with the EPL giants.
"I must say the first years of my career here were quite easy, from 1996 to 2005. It was a period where it all went really easy, smooth and well. We were always dominating, mostly in the league or the FA Cup.
"Then came a second period when we moved into this stadium. It became much more difficult because we face more competition and because we were under restricted finances and the target was to stay at the top of the league and to qualify for Champions League every year to repay our debt back. I must say we did it. Sometimes within a sceptical environment, and most of the time having to fight until the last minute of the last game of the Premiership," Wenger said.
"I believe too if you ask me to do it again I would say no, let somebody else do it because I will not take that gamble any more because it was so difficult. Since two and a half years we are out of this period, much more at ease financially."
With Arsenal currently second on the EPL table, two points behind leaders Manchester City, Wenger said that his team are legitimate title contenders and that it would be his priority this season.
"I think we are back in contention and we have a good chance. From January, what for me was the turning point in the history of this team, in the calendar year of 2015, we have taken more points than anybody. That means the trend is right," he said.
"What we do is consistent. Even if we had a bad start to the season we managed to come back and are only two points from the leaders. That means we have recreated consistency. We have to show what we showed against Manchester United. Be capable to win the big games, show that level of urgency in every single game and show the consistency we have shown since the start of 2015," he added.