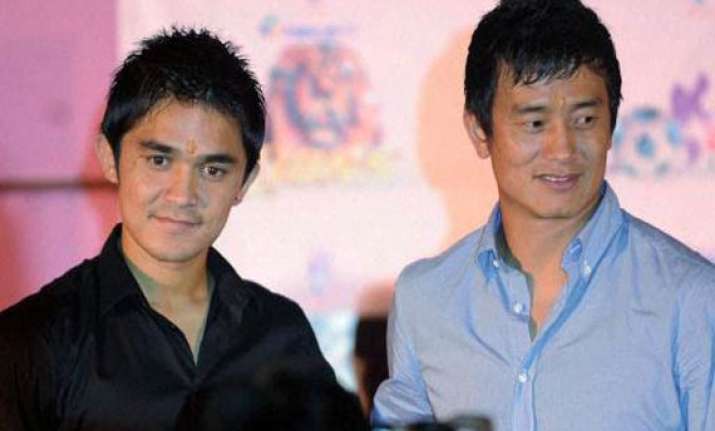 New Delhi: The All India Football Federation (AIFF) Wednesday decided to form a special committee that would have Bhaichung Bhutia and Sunil Chettri, who will give technical advice for the 2017 U-17 World Cup.
The AIFF executive committee endorsed president Praful Patel's suggestion to appoint a special committee to advice the technical structure for the 2017 U-17 FIFA World Cup. Besides Bhutia and Chettri, reputed Indian coach Derrick Pereira will also be a part of the panel.
It was also decided that the Coca Cola Cup will form the primary base for talent scouting for the national team for the U-17 FIFA World Cup. Boys born on or after January 1, 2000 will be eligible for the championship.
The championship will be played first on a zonal format and AIFF will conduct a seminar with the state associations explaining the philosophy for Scouting for the Championship. The AIFF technical staff would be acting as Scouts for the selection of the national team for the 2017 U-17 FIFA World Cup.
An U-15 League including all U-15 Teams from clubs, various academies including AIFF academies was also proposed to identify more talent for 2017 U-17 FIFA World Cup.
During the meeting, Patel also informed the committee that he had a meeting with FIFA president Joseph Blatter in Zurich where he discussed India's bid for the FIFA World Club Cup in 2017 and in 2018.
"We have to put in a bid to host it for two consecutive editions of the Championship. If we are successful, we would have FIFA Tournaments in India in 2017, 2018 and 2019. We will come to know the outcome in December 2014 and if it happens, it will be a big achievement for Indian football," said Patel.
"I also hope the Indian Super League (ISL) scheduled to kick-off in September 2014 will provide the much-needed boost for the game in our Country. I'm confident it will be a positive development for the promotion of Football in India," he added.
The committee also approved a budget of Rs.3 crore for U-23 national team's preparations for the Incheon Asian Games which includes an exposure tour, probably to Spain.
The Committee unanimously made compulsory for all coaches or technical director to have an AFC A-Licence degree. Furthermore, any coach and technical director without a valid AFC A-Licence degree, if appointed by any club, would not be allowed to sit on the reserve bench even in practice sessions. They also won't be allowed to enter the dressing rooms.
The committee made it mandatory for all I-League Clubs to sign a marquee Player among the foreign recruits.