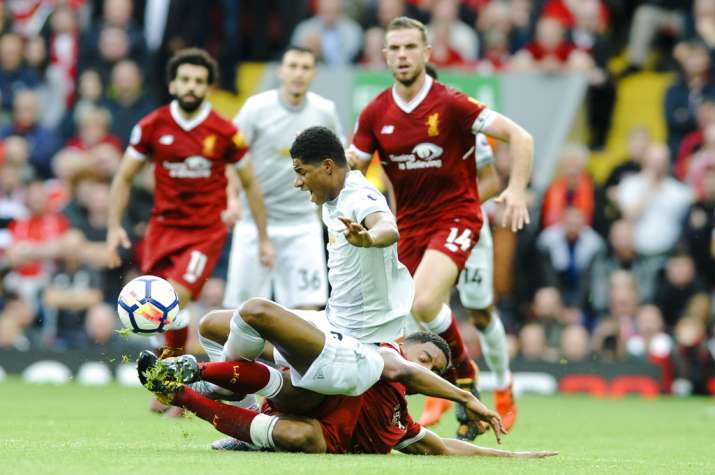 Manchester United drew Liverpool at Anfield as it was all square at the end of 90 minutes. Liverpool's defence did a commendable job for the Merseyside side while it was the United wall David de Gea who denied Salah, Firmino and Coutinho any chance of taking the lead. A point each for each side which leaves Manchester United at the top for now while Liverpool crawl up the table to the sixth position. 
United came into the game to soak up the pressure and hit their opponents on the counter-attack, but an off day for the forwards meant that they had to sit back and defend in numbers against Liverpool's pacey forwards.
United's De Gea made a brilliant save in the first half as Firminho's shot was blocked by the Spaniard which landed on Salah's foot to shoot on the turnaround and eventually off target. Liverpool's defence stepped up their game in today's fixture as Matip and Lovren pocketed Lukaku and Martial. Mignolet saved a great shot from Lukaku which should have ended in the back of the net considering his performance so far. De Gea now has seven clean sheets for United. An absolute brick in Mourinho's wall.
United have been on a goal spree this season as Belgian forward Romelu Lukaku has been the man that has been hard to pocket but the Merseyside defenders managed to do so in today's fixture. Anthony Martial opened in the starting XI for the visitors after being brought on as a substitute from the bench this season.  
Liverpool hogged the possession for most of the matches as United ran around in circles. Henderson and Coutinho played an important role as the skipper and the Brazilian controlled the play at Anfield. Merseyside forwards and mid-field had many cracks at goal as the reds had rammed over 16 shots with over 7 knocks on target. De Gea made crucial saves to keep the momentum going for the Red Devils. United defenders Smalling and Phil Jones made important clearances whenever Salah, Coutinho and Firminho entered the box.  
Jose Mourinho appeared to be discontent with the referee decisions which gave Liverpool a room full of opportunities to counter-attack. Sturridge and Oxalade Chamberlain were brought in the 78th minute.
Manchester United top the table for now but if the noisy neighbours; City win today's fixture against Stoke, then it would be the blue side of Manchester that would top the table this week.  
Manchester United next play Benfica in the Champions League group stage and Huddersfield next week. It is only one win in the last five league games for Liverpool, which missed the injured Sadio Mane.
​