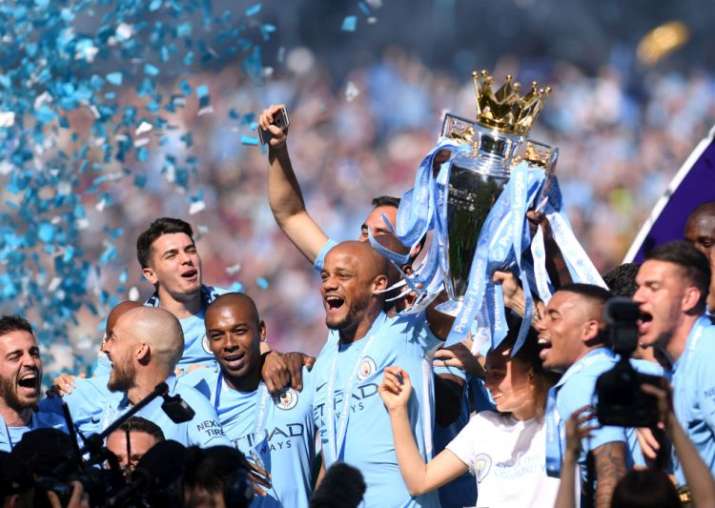 As Manchester City finally collected the Premier League trophy on Sunday, Chelsea closed in on salvaging Champions League qualification from a lackluster title defense and further weakened Liverpool's grip on a top-four finish.
They couldn't mark the occasion with a potentially record-breaking win — City surprisingly drew 0-0 with relegation-threatened Huddersfield — but it didn't stop them basking in the glory of a stylish and runaway title triumph that was clinched in record-equaling time two weeks ago.
Pep Guardiola was thrown in the air by his squad. Yaya Toure danced and jigged with his teammates on one of his last appearances on the Etihad Stadium turf. Some of the backroom staff swigged on huge bottles of champagne. City's fans, who earlier defied orders to not invade the pitch after fulltime, chanted song after song about their favorite players.
The crowning moment on a beautiful, sunny day in east Manchester came when Vincent Kompany raised aloft the biggest prize in English football, the third time the long-serving City captain has done so in seven seasons. He'll never get tired of doing it.
There are still two games left in City's league season — and still time for City to break the record for most points, wins and goals in a single Premier League campaign. Then City will aim to become an even more celebrated team by retaining the title for the first time.
"England is a special place and is so tough. Today we saw it," Guardiola said. "You never know if you are going to win, but I had no doubt what I had to do.
"To make back-to-back titles in this league will be tough, but we accept the challenge."
Even Guardiola, a perfectionist, might let off his players for their lowering in standards against Huddersfield.
On a day when fans partied inside and outside the stadium and the side entered to a guard of honor made up of the Huddersfield team as well as players from City's title-winning team from 1968, City produced one of their sloppiest displays of the season. The final ball was lacking and even David Silva misplaced some passes.
It was the first time this season City had been kept scoreless at home in the league, the last occasion being in April last year in a 0-0 draw against Manchester United.
In fact, Huddersfield had the better chances — through Chris Lowe and Florent Hadergjonaj in the first half — before defending deeply and obdurately after halftime to secure a point that could prove crucial in its bid to preserve its place in the Premier League.
Huddersfield moved three points clear of the relegation zone with two games to play — against Chelsea and Arsenal.
As for City's players, they still require two points, one win and two goals to set milestones in a season when Guardiola's side cruised to the title playing the kind of football rarely seen in the English game.
City's remaining games are against Brighton at home and Southampton away, and Guardiola is sure to rotate. Toure, for example, will get his Etihad send-off against Brighton after eight years at City where he has been one of the most influential players at the club and in the league.
Toure was given the biggest cheer by fans as City's players walked up to the stage to collect the trophy. As many of them jumped on the midfielder, the trophy fell off its perch and onto the grass.
A minor blip on a special day for City.
A resurgent Chelsea sealed a fifth successive victory when Olivier Giroud scored the only goal against Liverpool, which has only one win in five league games.
It's an impressive turnaround for Chelsea, which has cut the gap to fourth-place Tottenham from 10 to two points in a month.
The 1-0 win over Liverpool sent Chelsea within three points of Juergen Klopp's side, which has neglected its domestic responsibilities while qualifying for a first Champions League final in 11 years.
While both Chelsea and Tottenham have two games remaining, Liverpool only have one game left and could be relying on its superior goal difference to secure a place in the Champions League — unless Liverpool beas Real Madrid in the May 26 European final.
Whoever finishes fifth will have to settle for a spot in the Europa League alongside Arsenal and Burnley, who met on Sunday in Arsene Wenger's final home match in charge of the London club. It was a fitting send-off from the Emirates Stadium for Wenger, with Arsenal demolishing Burnley 5-0.
Wenger is leaving Arsenal after 22 years, having failed to win the Premier League since 2004.
Man City, which sealed the title three weeks ago, received the trophy for the third time in six years on Sunday but couldn't produce a performance befitting title celebrations after being held 0-0 by Huddersfield.
The games on Sunday took place against the backdrop of an outpouring of concern for the health of former Manchester United manager Alex Ferguson, who had emergency surgery on Saturday for a brain hemorrhage.