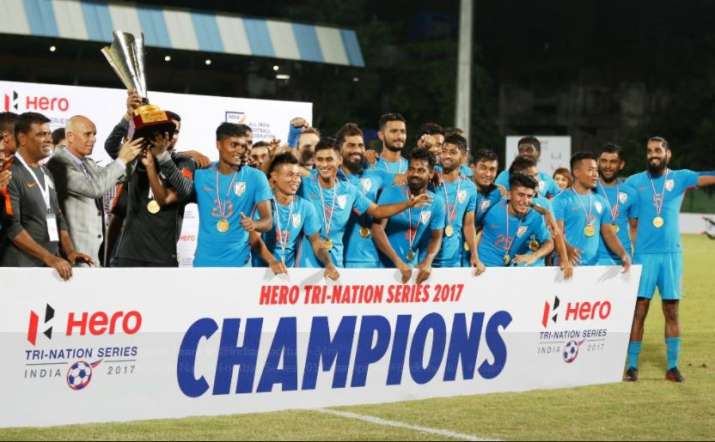 A profligate India conceded a late goal to be held to a 1-1 draw by lower-ranked St Kitts and Nevis but it was enough for the home side to clinch the Tri- Nation football tournament. India, ranked 97th in the FIFA chart, largely dominated their second and final round-robin match and wasted several chances. 
Jackichand Singh gave the home side the lead in the 38th minute but Amory Gvaune scored the equaliser for the 125th ranked St Kitts and Nevis in the 72nd minute to split points with the home side. 
India won the tournament with four points. They had defeated Mauritius 2-1 in their first match. St Kitts and Nevis finished runners-up as they had also settled for a 1-1 draw against Mauritius. The draw, however, meant that India ended their streak of nine wins on the trot. 
India, who started on an aggressive note, took the lead in the 38th minute, courtesy a stunning header by Jackichand Singh who was assisted by Rowllin Borges who sent a beautiful cross from the right wing. 
St Kitts and Nevis had to wait for 33 minutes for the equaliser. Gvaune netted the ball after being assisted by Tiano Hanley, who headed the ball to the goal-scorer after a corner. 
In the injury-added time, India had quite a few chances to score their second goal and register their 10th win on the trot, but the strikers either missed the target or it was saved by the opposition custodian. 
In the opening minute, Hanley Tishan, on a counter attack, took a shot at the Indian goal but it went wide. 
The home side soon went into an aggressive mode and had better possession of the ball in the first half. 
India narrowly missed a chance in the 20th minute when Rowlin Borges set it up for Halicharan Nazary who delivered a cross to a rushing Balwant Singh. The striker has his head on the ball but it went a little over the bar. 
Nine minutes later, India missed another close chance to take the lead. After Eugenson Lyngdoh took a corner, Balwant tried to drift the ball inside the goalpost only to be stopped when skipper Sandesh Jhinghan took a shot, which missed the goal by inches. 
After the interval, India made one change with forward Robin Singh coming in for Balwant. Nikhil Pujari and Mohammed Rafique also came in for Jackichand and Lyngdoh. Later, Anirudh Thapa came in for Rowlin. 
In the 51st minute, Robin had a very good chance to take the hosts to 2-0 ahead, when he ran towards the goal but failed to go past the goalkeeper, who deflected the ball. 
Robin had a bad day on the field as he missed at least a couple of chances with one of his attempts hitting the bar.