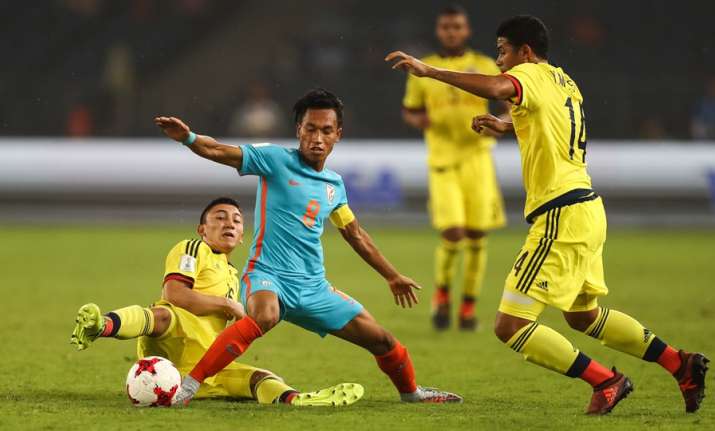 Columbia rode into this match with all guns blazing after their defeat to Ghana in the group match. Columbian coach Restrepo Orlando was satisfied with the result after defeating India 2-1 in Delhi on Monday. The visitors exploited the Indian player's weakness of ball control and kept possession throughout the match. Penaloza's brace gave the South American team a breathing chance of qualifying for the knockouts where they face an uphill task against an undefeated USA.
Speaking after the match, Restrepo said he was mighty impressed with India's gutsy performance and lauded the debutant side's defenders for being "organised".
India displayed a valiant performance as they kept battling for the ball till the hosts managed to break past Columbia in the 82nd minute with a header from a corner. Jeakson managed to get past the Columbian defenders to head in a sweet finish to equalise the score. 
The Columbian coach immediately instructed the players to capitalise on the moment as the Indian players were celebrating and had lost concentration. An accurate through ball from the defenders reached Penalzo through which he converted the pass into a goal, leaving the hosts stunned in the 83rd minute. It was game over for India. 
Orlando was proud of his player's performance throughout the match and congratulated the Indian team putting up a fight.
"I would like to congratulate the Indian players and the coach for their will. The hard part was that we have to be a little more patient to finalize the opportunity that we had," said the Columbian coach.
"Penaloza had a great game and to consider the fact that he started as a right-back (defender) and now on the right wing where he can show his pace and creativity and got the winning goal," said Orlando on Penaloza's winner.
"The last fifteen minutes of the match were stressful especially when India scored but we stuck to our plan as we were comfortable with that and eventually capitalized on an intense moment," concluded Orlando.
The South American team will now face their northern neighbours USA in a do-or-die encounter on October 12. They have to win the match if they are to qualify for the knockout rounds.