Follow us on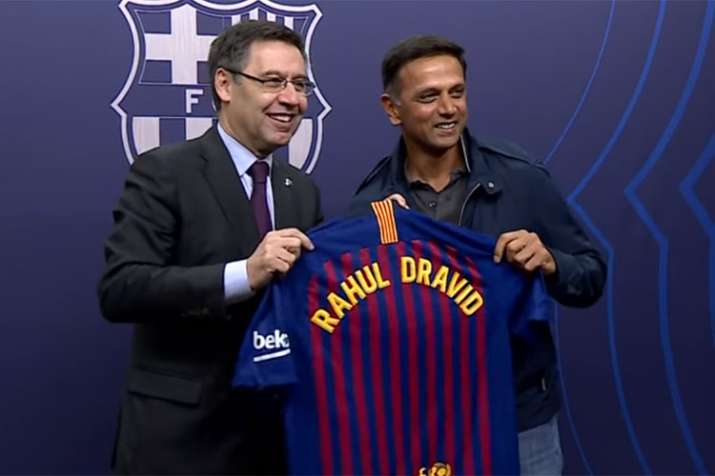 Scoring two vital goals in the span of 1 minute and 40 seconds, Luis Suarez and Lionel Messi guided FC Barcelona to an astonishing win over 10-man Atletico Madrid at Camp Nou on Saturday. 
While the Blaugrana dominated rivals Atletico in what could the deciding factor for the title race, amongst the thousands of fans present at Camp Nou, was distinguished former Indian cricketer Rahul Dravid, a.k.a, 'The Wall'.
After the Catalan giants' 2-0 win over Atleti, Dravid met FC Barcelona's president Josep Maria Bartomeu and was handed a Barca jersey with his name printed on it. 
Speaking after the match to the media, Rahul felt honoured to witness a match at Camp Nou and watch five-time Ballon d'Or winner Messi at his level best. 
"It's a huge honour and it's one of the things I've wanted to do is watch a football match at Camp Nou, to be here and witness the atmosphere is absolutely electric. It's incredible to be able to watch players like Messi and Suarez play live," Dravid told media persons. 
Dravid was left mesmerised after watching Messi guide Barca to a critical win with a clinical performance and was all praise for the Argentine match winner. 
"He's an absolute genius and it's incredible to see what he does. It's fantastic to see what he does with the ball but it's incredible to see him without the ball and be able to find spaces. I don't think there's been a  better player than him ever and it's fantastic to watch him play." 
In clearing the path to what would be Barcelona's 26th league title, Messi reached a new personal milestone with a competition record 335th victory, overtaking Iker Casillas on 334 wins.
On reaching the Copa del Rey finals and nearly within reach of the La Liga title, Barca also have their eyes set of European success as they face old rivals and English giants Manchester United in the UEFA Champions League quarterfinals and Dravid is looking forward towards the clash. 
Manchester United manager Ole Gunnar Solskjaer watched the match in person before the Spanish club visits Old Trafford on Wednesday for the first leg.