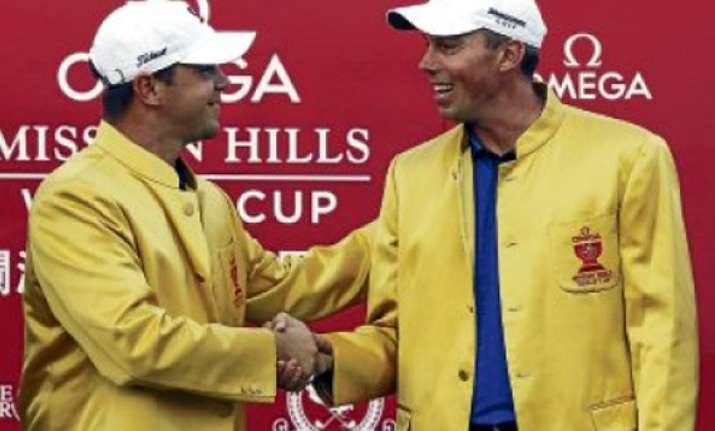 Hainan, Nov 28: Putting machines Matt Kuchar and Gary Woodland on Sunday claimed the United States' first golf World Cup since Tiger Woods and David Duval lifted the trophy 11 years ago.

The Americans took advantage of an Irish tailspin as tournament favourites Rory McIlroy and Graeme McDowell endured a sloppy final day at Mission Hills in southern China.

Kuchar, playing in his first team event, was in sublime form on the greens, helping the pair hole six birdies to finish top of the leader board on 5 under 67 and 24 under overall.

"We really clicked. It's fantastic to win for the US," said an ecstatic Woodland.

"Undoubtedly the shots on the 12th and 13th were key. It was a great moment and to shoot a par when you expected a bogey," said world number-10 Kuchar.

The pair kept their nerve during a tight and thrilling front nine to build a two-point lead over chasing Germans, world number-four Martin Kaymer and Alex Cejka at the halfway stage.

They maintained the advantage through the back nine despite a rare slip with a bogey on the par-three 11th hole.

Germany claimed joint second with a resurgent England on 22 under overall.

England's Ian Poulter and Justin Rose accelerated up the leaderboard thanks to their late rally, holing eight birdies and an eagle.

World number-two McIlroy missed several putts and fluffed another crucial 25 footer on the 18th which would have given Ireland a share of the runners up cheque in the $7.5 million tournament.

McIlroy and 2010 US Open champion Graeme McDowell led the field from round two but finished tied fourth with Australia, Scotland and the impressive Netherlands on 21 under overall.

The Irish duo - who carded four bogeys to finish the last round on even par 72 - came unstuck on the sixth hole when McIlroy shot a wayward ball into the thick foliage and McDowell struggled to dislodge it from the course's signature lava rock.

The pair suffered a penalty shot and the Americans took advantage to claim the United States' 24th World Cup since the competition was launched in 1953.