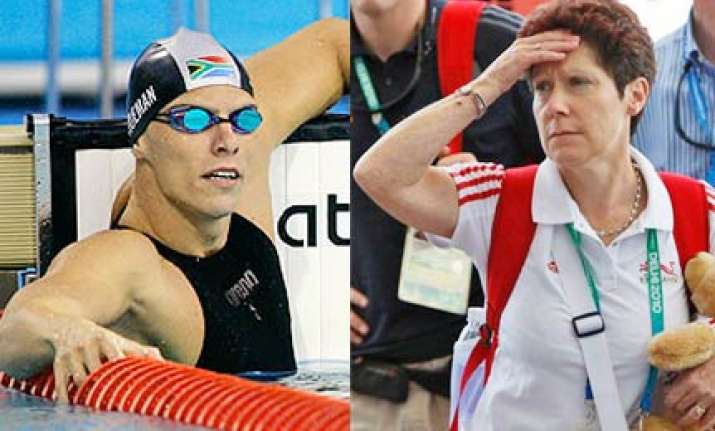 New Delhi, October 9: Racism slur has become the latest controversy to hit the already-troubled Commonwealth Games with at least three such incidents since the mega-event got underway last Sunday.
South African swimmer Roland Schoeman had yesterday condemned crowd antics describing them like "monkeys", while an English official used an expletive against Indian archery head coach Limba Ram in two different incidents.
Former world record holder Schoeman was furious at the noise during his 50m freestyle semifinal and referred to a particularly vocal spectator as a monkey.
"There were people going on like monkeys. It's an absolute disgrace. There's a guy in the stands just shouting, shouting, shouting. Somebody like that needs to be ejected," the South African ranted as he was allowed to restart and qualified for the final.
"It's unacceptable to be at a professional event like this and have people going on like monkeys. Someone like that doesn't deserve to be here."
But later in the day in a damage-control mode, Schoeman tweeted: For the first time in my life I had someone scream out as we were going to start the 50m freestyle..."
"I've never experienced something like that before. The behaviour by that individual was unacceptable and my comments are directed solely at him. The spectators have been fantastic here. But an individual like that doesn't deserve to be sitting poolside at an international competition," he said in the micro-blogging site.
Earlier, the chief Indian archery coach had to bear the brunt of a miffed English official after their one-point defeat to lose the gold medal in the women's recurve team event at the Yamuna Sports Complex.
The Olympian told PTI that he was abused by a foreign official when he went to shake hands, a customary gesture after a match.
"When I was about to extend my hand to this person wearing English team colours (white and red), he showed me his elbow and told me 'f*** ***'," Ram told PTI.
England's archery team official, Hilda Gibson, though said she was unaware of the incident.
But the English archers complained about the crowd behaviour at the archery venue though they did not blame it for their loss.
"The crowd were intentionally shouting, which is not a good thing to do in a sport like archery. In England, crowd would have been quiet. It was not good sportsmanship. But we are not blaming them nor are we protesting," Gibson said, as FITA issued a statement and threatened to stop the competition if such incidents happened in the future.
Already there had been a diplomatic row following a New Zelander TV presenter's racist jibe at Delhi chief minister Sheila Dixit. PTI