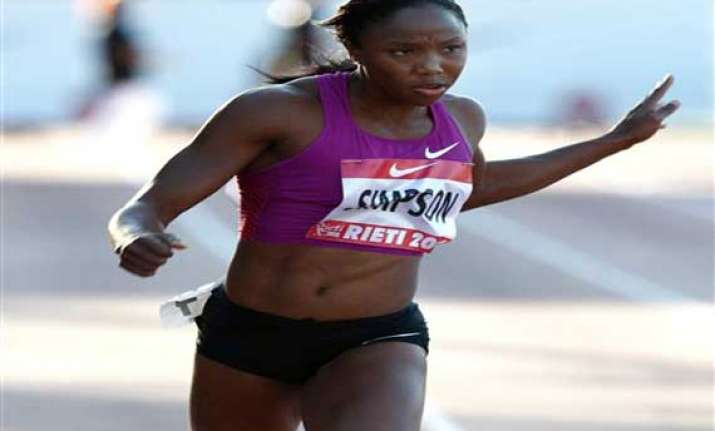 Kingston, Jamaica: Jamaican Olympic sprinter Sherone Simpson was banned until Dec. 20 after testing positive for a banned stimulant, a disciplinary panel announced Tuesday.
The three-member panel of the Jamaica Anti-Doping Commission said it would soon release its reasons for issuing an 18-month ban, which begins from the June 21, 2013 sample collection date. The Olympic 4x100-meter relay gold and silver medalist, along with former 100-meter world record holder Asafa Powell, tested positive for oxilofrone at Jamaica's national championships in June.   
Simpson's agent, Paul Doyle, described the ruling as "incredibly unjust" and said they would immediately appeal to the Court of Arbitration of Sport. He said two different labs were commissioned to test the suspected supplement, called "Epiphany D1," and both determined that oxilofrone was present and not declared on the label.   
He added that athletes are typically given a punishment ranging from a public warning to three months of ineligibility in such cases.   
"The fact that the panel has given 18 months suspension and have provided no explanation as to why is unacceptable in our opinion," Doyle said in an email to The Associated Press.   
In a brief announcement earlier at a conference center in Kingston, commission chairman Lennox Gayle would only say the panel unanimously found that "Miss Simpson was negligent in all the circumstances."   
The 29-year-old sprinter did not attend Thursday's session. Her attorney, Kwame Gordon, said she was training in the U.S. and was not able to fly back in time.   
Simpson previously said she was not a "cheat" and had never intentionally taken the banned stimulant. Like her former teammate Powell, she blamed a newly hired Canadian trainer for providing her with a supplement that led to the positive test at the June meet, when she says she was still being bothered by a nagging hamstring injury.   
Simpson has said that she researched the Epiphany D1 supplement for up to 14 hours online before taking it, and that nothing "raised a red flag or an alarm bell." The veteran sprinter acknowledged that she did not disclose the new supplement on doping control forms.   
Simpson and Powell's former trainer Christopher Xuereb has told The Associated Press that he never gave either athlete any performance-enhancing drugs and only purchased major brand vitamins. In July, he told AP the two Jamaican sprinting stars were clearly looking for a scapegoat.   
Meanwhile, the Jamaican disciplinary panel on Tuesday also issued a two-year ban for Jamaican Olympic discus thrower Allison Randall, who is suspended until June 2015. Randall's ban also begins from her June 21, 2013 sample collection date. She represented Jamaica during the 2012 Olympics in London but failed to reach the final.   
Randall tested positive for a banned substance at the national championships, and commission members said they could not establish how the substance came to be in her body. She was one of five Jamaican athletes, including Powell and Simpson, who tested positive at the same June meet.   
Randall had testified earlier that she believed the source was a supplement she was taking called "Animal Pak," but the panel ruled she was unable to establish how the substance got into her body. She appeared via Skype during Tuesday's hearing but showed no reaction after the ruling was announced.   
The commission is expected to issue a much-anticipated ruling on Thursday in the case of Powell, whose defense before the same panel was nearly identical to Simpson's.