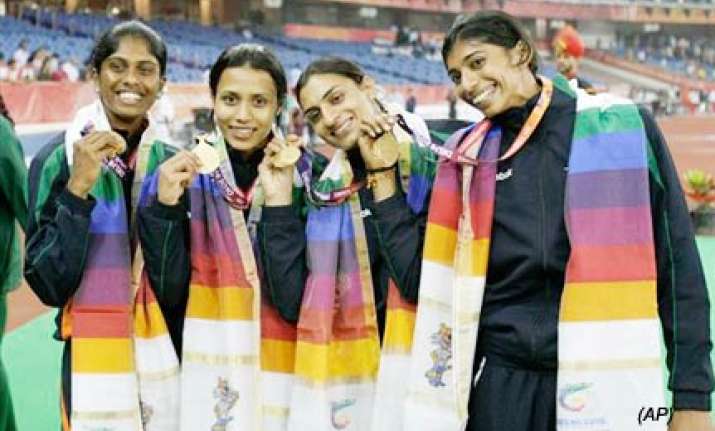 New Delhi, Oct 12: The women's 4x400m relay quartet grabbed the second athletic gold medal for India in as many days while four bronze medals too were plucked by the host nation on another glorious day for India at the Commonwealth Games when the men's hockey team made their maiden entry into the final.
The 1,600m relay squad of Manjeet Kaur, Sini Jose, Chidananda Ashwini and Mandeep Kaur ran a blistering race to cross the line first in 3 mins, 27.77 secs to give India their 32nd gold medal of the Games, a new high from a single edition for the country. The hosts also maintained their second position in the medals table behind Australia with a tally 32-25-32.
India's previous record gold tally was 30 eight years ago from Manchester, England.
The hosts, who made a clean sweep of the women's discus throw yesterday with Krishna Poonia becoming the first athlete in 52 years to bag a gold, also picked up the 4x100m men's and women's relay bronze medals in 38.89 and 45.25secs respectively.
To add lustre to their stupendous display was the men's bronze medals claimed by triple jumper Renjith Maheswary (17.07m, new national record bettering his own 17.04m) and javelin thrower Kashinath Naik (74.29m) to make it a fabulous day in track and field events for the hosts.
With only the men's and women's marathon races remaining, to be held on the last day (October 14), the country emerged with an unprecedented haul of a dozen medals, including two gold, from the blue riband discipline of the Games.
Earlier, the women shooting pair Heena Sidhu and Annu Raj Singh grabbed the gold in 10m air pistol, the 31st won by India here, to open the medal harvest on the ninth day of competitions which was marred by the second doping scandal.
Heena and Annu claimed the gold after some tense moments as both Australia and Canada competed on even keel. It was also the 14th gold won by India in shooting.
To cap a stupendous day for the hosts, the men's hockey squad came back from 1-3 down to send England packing in the semi finals via the penalty shoot-out after the teams locked 3-3 at full time. India won the tie-break 5-4 for an overall victory marging of 8-7.
Sarvanjit Singh (2) and Vikram Pillay scored in regular time. After a goaless extra time play, India were bang on target in the shoot-out, finding the target on all five occasions.
A great save by goalkeeper Bharat Chetri denied England's Glenn Kirkham to put the hosts into Thursday's final against world and defending champions Australia.
In 10m air pistol (pairs) shooting for women, after the final round, three teams were tied on 759 points. India and Australia shot 21 perfect 10s in the shoot-off but the hosts were adjudged winners on count-backs. Canada took the bronze, shooting 14 perfect 10s.
The Dr Karni Singh shooting range continued to be the best medal harvesting ground for the country though star marksman Gagan Narang fell out of medal bracket for the first time.
But Gagan Narang, one short of Jung's gold haul four years ago at Melbourne with four in his kitty, failed to get into the medal bracket for the first time here by finishing a disappointing fifth with his partner Hariom Singh in 50-metre rifle prone pairs event.
Narang was the second best individual scorer with 593 but his partner Hariom, suffering from bouts of viral fever with temperature hovering around 100, found it difficult to compete in the star-studded field.
The rifle ace has got the individual event tomorrow to catch up with 2006 Games hero Sasmresh Jung's five-gold haul and become the new "Goldfinger".
Scottish duo of Neil Stirton (592) and Jonathan Hammond (589) clinched the gold with a total of 1181.
Jung and Chandrasekar Kumar Choudhary picked up the men's 25m standard pistol pairs silver while world champion Tejaswini Sawant failed to perform to potential and yet captured the silver in women's 50m prone event.
With today's haul of one gold and two silver, the Indian shooting contingent has exceeded their Melbourne tally (27 medals) and have three more events remaining.
The day saw India capture 1 gold, 2 silver and four bronze to take their tally to an overall 32-25-32, keeping them in second position in the table behind Australia (68-45-40) even as England (30-50-41) continued to pursue the hosts in earnest.
But the Games continued to be rocked by dope scandals for the second day running when Nigerian men's 110m hurdler Samuel Okon tested positive for the same banned stimulant that was detected in his compatriot and women's 100m winner Osayemi Oludamola's system.
"We have had a second anti doping violation. Nigeria's Samuel Okon, a 110m hurdler, has tested positive for the same (Methylhexaneamine) substance," said CGF president Mike Fennell at his customary morning press conference here.
Yesterday the fastest woman of the Games Osayemi was declared to have taken the same banned stimulant and the decision on her B sample, which is being tested, is expected only tomorrow. Pending the result, she remained provisionally suspended by the CGF.
"It's (Methylhexaneamine) a stimulant and in accordance with our anti doping standard, we have notified the athlete. We will have a provisional hearing later today," said Fennell about the second positive dope test.
In table tennis, Soumyadeep Roy quelled some stiff challenge before overcoming Singapore's Xiaoli Cai 4-1 to storm into the men's singles semifinals of the table tennis competition.
In the semifinal, Roy will take on world number 17, Gao Ning, who beat another Indian A Amalraj 4-1 in another match.
India's experienced women pair of Poulomi Ghatak and Mouma Das entered the women's doubles semi finals by overcoming Australian pair M Miao and J F Lay 3-2.
But it was curtains for another Indian pair, Shamini Kumaresan and Madhurika Patkar, who lost 1-3 to T Feng and Y Wang of Singapore.
In men's doubles, Olympian Achanta Sharath Kamal and former national champion Subhajit Saha also got the ticket to last four stage after beating Nigeria's Aruna Akinade and A seun 3-1.
Another Indian pair of Anthony Amalraj and Roy, however, could not cross the quarterfinal hurdle and went down 0-3 to Singaporean duo of Gao and Zi Yang at the Yamuna Sports Complex.
India's challenge in women's singles and mixed doubles categories have already ended.
Later women's gold medal favourite Saina Nehwal defeated England's Susan Egelstaff 21-10 21-17 to enter the singles final in badminton.
The Indian star will meet Mew Choo Wong of Malaysia in the summit clash on October 14.
Jwala Gutta and Ashwini Ponnappa also advanced to the final with a 12-21 21-13 21-11 victory over Australia's Tang Hee Tian and Kate Wilson-Smith in the semi final.
The Indian duo take on Singapore pair Shinta Mulia Sari and Lei Yao, who ousted Jenny Wallwork and Gabby White of England in the other semi final, in Thursday's final.
In men's singles national champion Chetan Anand and P Kashyap crashed out in the semi finals.
Anand went out after being beaten 21-11 21-12 by Chong Wei Lee of Malaysia and Kashyap lost Rajiv Ouseph (England) 21-19 12-21 18-21. PTI