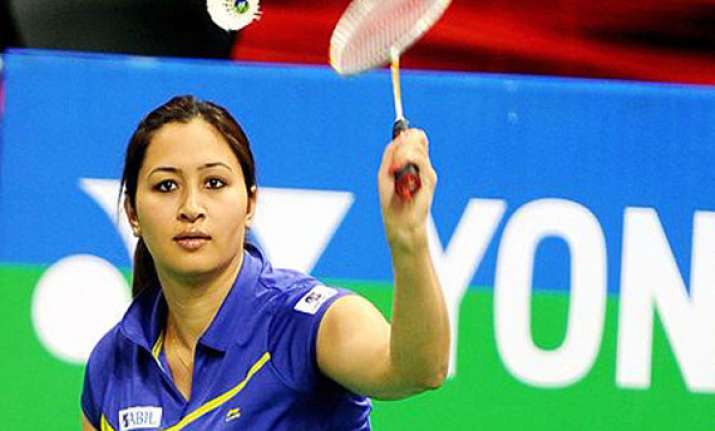 New Delhi: Top Indian doubles player Jwala Gutta took a dig at Saina Nehwal for differing with Indonesian great Taufik Hidayat on the auction of players in the Indian Badminton League (IBL).
Former Olympic and World Champion Hidayat was unhappy over the way the overseas players were bought at their base price when their less experienced Indian counterparts went for much higher amounts.
Saina Tuesday expressed disagreement with her Hyderabad Hotshots teammate Hidayat saying he should accept that he is retired and can't get the higher base price.
"It's a negative thing to speak like this. Taufik is a great player and there is no doubt about it. But I feel he should be happy with what he has got. He should understand that he has retired and would not get this kind of money even if he won a tournament. The IBL is meant to benefit local players. So, it's good if a local player has been bought at a higher price," Olympic bronze medallist Saina had said.
However, World Championships bronze medallist Jwala said it is not fair for Saina to comment on Hidayat's remark. The 29-year-old went on rant Wednesday on Twitter.
"Taufik Hidayat is one of the greatest player... and I don't think u can dismiss his views just because he has "retired" from the game!!!! No matter how big u have become in sport I think one should try and ustand what ur fellow players views r And work on it!!! I don't know how anyone can talk about him in such manner... without giving him and his stature any respect... it's absolutely sad!!!!" tweeted Jwala.
"Nobody can take away his achievements... just because he's RETIRED!!!! He is and will always be one of the greatest badminton player!!!! And again it's not about money... it's about RESPECT!!!!! nobody will pay but nobody will disrespect... well only who have been through... Would knw!!!! but then dhoni will not make statement that Lara has retired and should not complain!! fellow players should respect the views... if nt agree don't insult him atleasr of course there's sense he has seen and done much more than anybody!"
Jwala also tagged Saina in her tweets while criticising her.
"He come from a country where badminton is the national sport. @NSaina I don't think it was a good way to do it!!! @NSaina her take was that he should nt complain cos he retired!!!! @NSaina and he doesn't need any money everyone knows wht he is in his country... he is like sachin in his country!!! taufik gave his view then... Why don't we see it that way... but u can't ignore world chMpio see if u don't ustand it fine!!! I don't really wanna start an argument lets all focus on our career!!! And wht I'm sayin is @NSaina need not talk about a champion this way."