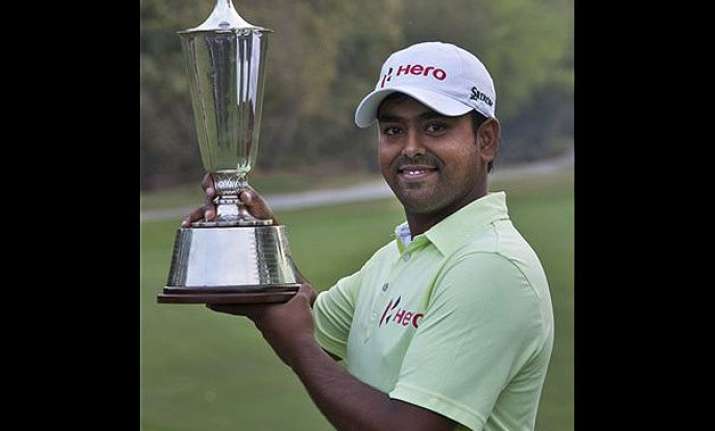 New Delhi: Anirban Lahiri clinched the Hero Indian Open title -- his second European Tour title in two weeks -- despite dropping as many as 17 shots in the last four days and the Indian golfer said he was "shocked" following his dream victory.
Lahiri's win came after enduring his toughest day at the Delhi Club Club here today.
"I'm shocked. I really didn't think that I will be in this position considering the way SSP (Chowrasia) and Siddikur (Rahman) have been playing. I thought all of us were playing for third," he told reporters after winning the play-off with a 15-foot birdie putt against overnight leader SSP Chowrasia on a dramatic day.
"This is the toughest I've seen Delhi Golf Club play. It was very windy and it was not the usual wind when we come here. That's the only reason why I had a chance today.
"At the start of the week, I knew that if I put in a good performance it would pretty much secure my place in The Masters. I didn't think I would win after the last three days of golf. It is fantastic. Now the whole world is opened to me. I'm really excited. This is what dreams are made of," added Lahiri, who had begun the fourth day seven strokes behind the leader.
The 27-year-old from Bangalore became just the eighth Indian to win the tournament since the event was first played in 1964.
Lahiri said: "I didn't know what was going on until I reached the ninth green. I was walking up and my caddy said we have a chance. I asked him what is he talking about and he replied that SSP is having a bad round. That's when I looked at the leaderboard and I was one shot behind."
This is the fourth time that Lahiri has won an event at the Delhi Golf Club in a play-off. The previous three were the 2011 Panasonic Open India, 2012 and 2013 SAIL -SBI Open.
Asked if he was comfortable with the play-off, Lahiri said: "I thought that Marcus Fraser holed that 15-footer for birdie (on 18th hole). I wasn't aware that it was for par. In my head I was getting ready for a three-way play-off. I was definitely quite comfortable.
"I've been in a play-off four times here and I've won every other time so I felt quite comfortable," added the Indian, who moved to 687,043 points in The Race to Dubai and could move to just outside 30 of the Official World Golf Ranking, from 39th.
Talking about the course, Lahiri said: "The 12, 13 and 14 were the three toughest holes. I bogeyed 14 and dropped to six-under. I was talking to my caddy that if we get up to eight, we would have a chance. In my mind I was trying to make birdies in the last four holes but it was more difficult than I had imagined.