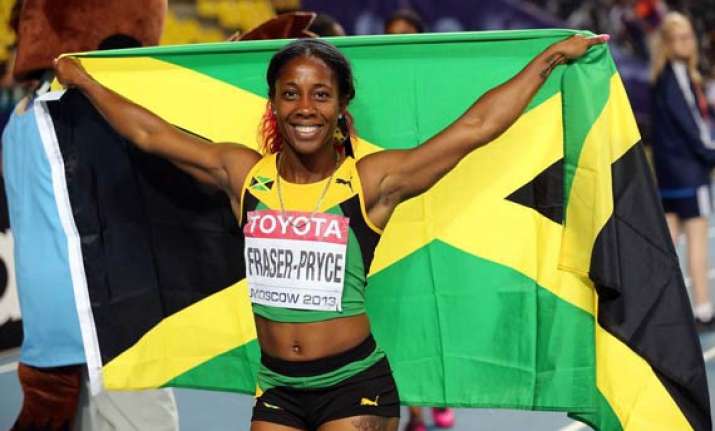 Kingston (Jamaica): Jamaican sprinter Shelly-Ann Fraser-Pryce is aiming at Rio 2016 to become the first female sprinter to win 100 metres golds at three straight Olympics, her coach Stephen Francis has said.
The pint-sized Jamaican captured the gold in Beijing in 2008 - her breakout year - and followed up by defending it at the 2012 London Olympics. Topping the podium in the women's marquee event at Rio would be Fraser-Pryce's goal.
"I think the most pressing thing for her is to be the first woman to win three Olympic gold medals in the 100m," CMC has quoted Francis telling the Jamaica Observer.
"Secondly to see if she can run the double (100m and 200m) in Brazil - that would be a big goal for her. So I think over the next couple of years, we will do all work required to reach that goal and we'll see what happens."
The 27-year-old Fraser-Pryce burst onto the international scene in Beijing six years ago, becoming the first Jamaican woman to win the 100m at an Olympics.
A year later at the Berlin World Championships she emphasised her status as the best in the world in the event, when she also won gold there. In London two years ago, she faced a huge threat from American star Carmelita Jeter but dismissed that challenge to storm to gold again.
Francis, who has overseen Fraser-Pryce's preparation as an international athlete, said the sprinter had done an incredible job in managing herself as one of the world's elite sprinters.
"What Shelly has done which has pleased me most [is that] she has mastered the trick of staying good. I tell them all the time that it's far easier to get good than to stay good," he pointed out.
"And a lot of natural factors … mitigate against you staying at number one, there are a lot of things that push you down but I think she managed to conquer those things and has herself focused and developed a mindset that keeps her where she is. She does everything that she used to do to an even greater extent."
"If she can keep it up then I don't know how much limit she has. She is always willing to work, willing to do what needs to be done. She is not very concerned about enjoying the fruits of her success as opposed to making sure that she continues to be successful."
Fraser-Pryce was good enough to add to her collection the sprint double at the Moscow World Championships last year, and more recently, the 60m title at the World Indoor Championships in Sopot.
Francis also believes she is unmatched when it came to producing at major championships.
"I don't think there is any question that where championships are concerned, that she is certainly the greatest female sprinter in the world in history, certainly in the 100m. No other woman has done what she has done."