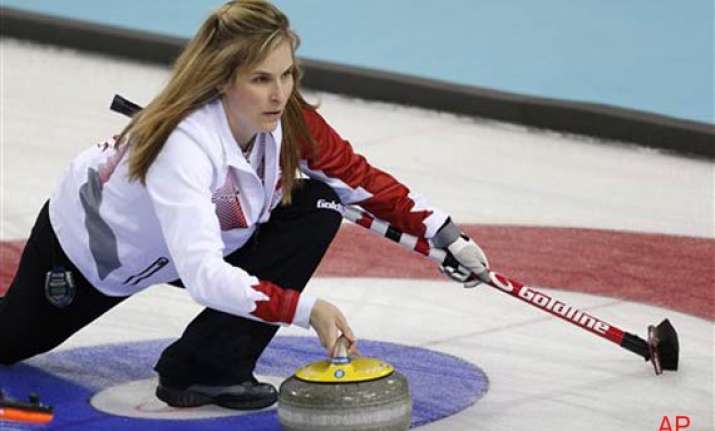 Sochi: Canada is in a rush at the women's Olympic curling tournament.
After requiring just seven of the 10 ends to crush China 9-2 on Monday, the Canadians secured a surprisingly easy 9-3 win over two-time defending champion Sweden in another shortened game over just eight ends in Tuesday's morning session.   
It earned the team some extra time to head up to the mountains and support their compatriots in the Sochi sunshine.   
"We'll enjoy some mountain air and cheer on some Canadians," said Canada skip Jennifer Jones, whose team has a bye in the evening. "I think we'll go and watch some slopestyle."   
Jones earned her time off Monday.   
She made all 16 of her shots with complete accuracy -- a very rare occurrence in curling -- in an unforgiving performance that blew away Sweden, which had showed good form in beating world champion Britain on Monday.   
"We played a good game," Sweden skip Margaretha Sigfridsson said, "but that is not enough when you play a team that is playing perfect."   
Whether it was a slow draw into the target or a shot to take out Sweden's rocks, Jones got everything just right, earning rave reviews from teammates, rivals and fans across social media.   
"She was seeing everything and had that fire in her eyes, going after it all," Canadian player Kaitlyn Lawes said. "She was on fire, was lighting it up out there."   
Canada's women curlers have won a medal at every Olympics since the sport returned to the program in 1998. Their only gold came in '98.   
Switzerland and Russia also are 2-0 after claiming wins on Tuesday.   
Roared on by boisterous home fans, the Russians defeated the U.S. 9-6 for the Americans' second straight loss. The U.S. let slip a 4-1 lead after three ends, with Russia stealing two crucial points in the fifth after U.S. skip Erika Brown was short with a draw.   
Just like Monday, home fans chanted and blew horns even when players were about to deliver the stones -- not the etiquette in some curling countries.   
"It's a little unusual, but I like that the crowd is involved," U.S. player Ann Swisshelm said. "It's pretty normal at Olympics that you have undereducated specific sport fans."   
Switzerland skip Mirjam Ott won a point with a draw shot at the last end of her team's match against Denmark for a 7-6 win.   
South Korea defeated Japan 12-7 in the other morning game between two teams making their first starts in the tournament.   
There are four games in the evening, when Canada has a bye.