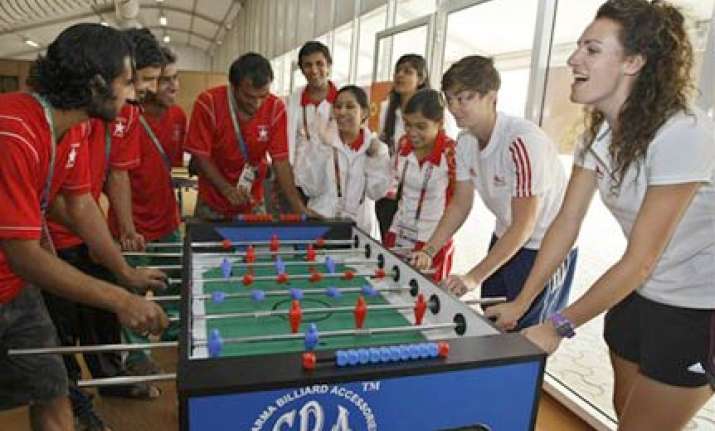 New Delhi, Oct 13 : The atmosphere at the Commonwealth Games Village here was filled with nostalgic feelings, just one day before the sporting extravaganza comes to an end.  Having spent about a fortnight together, it is time for over 7,000 athletes to bid good bye to each other.  While a few have already flown out to their respective countries, others are busy packing up.  Most of the athletes had tears welled up in their eyes as they interacted with sports persons of other nations here at the Village, which has acted as the cultural and social milieu for them.  
"India is really great. For the first time I come to know that you guys have such a rich culture and tradition. I am really going to miss it all," said Jonathan, an athlete from the Isle of Man.  For Kastro, an athlete from Bahamas, "The stay was something to cherish for lifelong. I did not know that I would make such good friends here. I had a wonderful stay here and also a little pain in my heart for leaving such a nice place."  There were many athletes and international delegates who were sad to leave this place after tomorrow.  "I visited Agra and Jaipur during my stay here. I got a chance to understand your country. I must say it is awesome. The food is superb. I have also bought a cookery book to improve my wife's culinary skills," said an athlete from the Norfolk Islands.  
Be it saree, kurta pyjama and other Indian souveniers, all were being bought in record numbers from merchandise and handicraft stores.  "Due to my hectic competitions schedule and hot weather I could not go out for shopping. But I have purchased sarees and some other items for my friends and relatives," said Rashique, athlete from Bangladesh.  
The Games Village saw an amalgamation of people drawn from different caste, creed, sex, region and religion from 71 countries.  Interestingly, there were not many athletes practicising today in the training area.  "Almost all the competitions have ended. I thought of spending some time with my friends in the Canada and England teams rather than exercising. After reaching home, I have to do the same old monotonous work. Let me give myself a chance to rejuvenate and happy for one more day," said Jonathan, an athlete from Bermuda.  For many, the grand dining hall proved to be a place for socialising and interacting with many others. "I made most of my friends while eating at the dining table. The food was awesome and I thank all for organising such a good Games, said an athlete from South Africa.  PTI