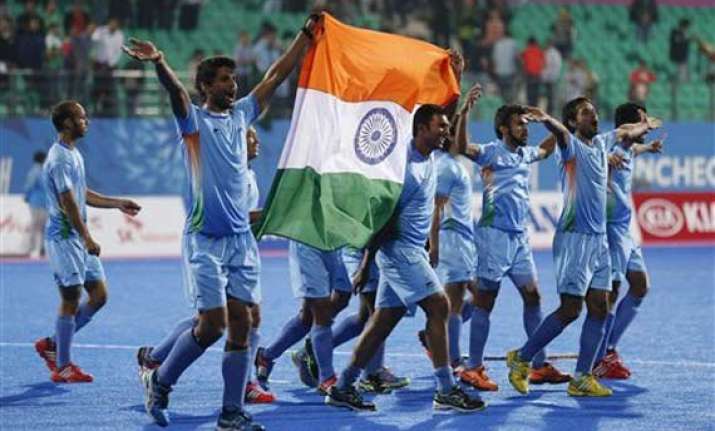 Incheon: A spirited India outclassed arch-rivals Pakistan 4-2 in a nerve-wracking shoot-out to regain the Asian Games men's hockey gold medal after a gap of 16 years and also sealed a direct entry into the 2016 Rio Olympic Games here today.
It turned out to be a humdinger of a contest between the two sub-continental rivals as both teams fought tooth and nail in all four quarters of the summit clash.
It took a shoot-out to determine the winner as both the teams were locked 1-1 in the regulation time at the Seonhak Hockey Stadium.
Dharamvir Singh got around Pakistan custodian Imran Butt to score the winning goal to trigger wild celebrations by the entire Indian team as the players jumped with joy, hugged each other and coach Terry Walsh.
They wrapped the Indian flag around them to take a round of the stadium with vociferous backing from their supporters in the crowd which included members of the wrestling team.
India, thus, not only avenged their earlier 1-2 defeat in the league phase to Pakistan, but also the 1-7 humiliating defeat in New Delhi in 1982 - the last time these two Asian giants had met in an Asian Games final.
The gold was only the third won by India in Asian Games hockey since the game made its debut in 1958 at Tokyo. It was in 1998 that India had won their second men's hockey gold at the Bangkok Games and it was only the second time in seven finals that India had emerged triumphant, the only other time being in 1966, also at Bangkok.
The title triumph in the continental Games also gained India a direct berth into the 2016 Olympic Games, thus taking a big burden off the team's shoulders to make it through the tricky qualifying rounds in which they had faltered in 2008 and failed to make it to Beijing.