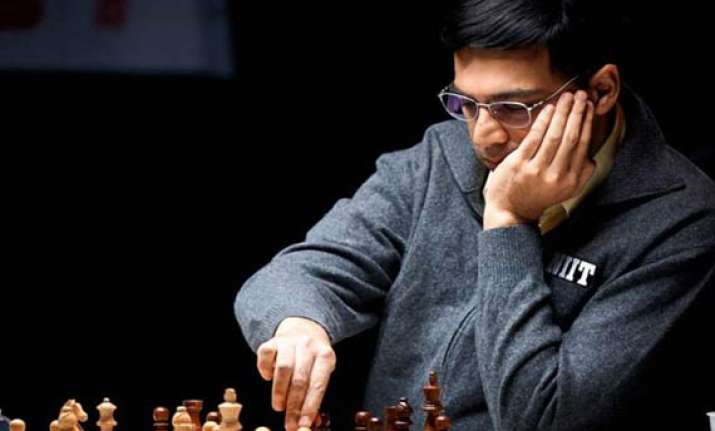 Khanty Mansiysk (Russia): Five-time world champion Viswanathan Anand inched closer to clinching the Candidates Chess tournament title after settling for an easy draw as black against Vladimir Kramnik of Russia in the 11th round here.
With just three rounds to go, Anand maintained his full point lead over nearest rival Levon Aronian of Armenia and with two white games in hand out of the last three, there is little that can go wrong for the Indian ace.
On what turned out to be a pretty dull day, Russian Peter Svidler played out a draw with Aronian, Dmitry Andreikin signed peace with Shakhriyar Mamedyarov of Azerbaijan while Sergey Karjakin held his position against Veselin Topalov of Bulgaria to get a half point.
With all games ending in draws, the leader-board did not see any change apart from the fact that everyone added to their overnight tally in this 600000 Euros prize money tournament that double up as the selection event for the next World Championship challenger.
Anand took his tally to seven points out of a possible 11 and Aronian remained his closest adversary with six points.  Karjakin, Mamedyarov and Svidler follow the Armenian a half point behind while Kramnik and Andreikin have five points in all. Topalov is on last spot with 4.5 points in his kitty.
Kramnik chose the Catalan opening with white pieces and the pressure of having lost the last two games weighed heavy on the Russian. Anand opted for a quite and fashionable system wherein Kramnik's attempt to complicate matters did not see the light of the day.
In the early middle game, Anand had a pawn weakness and instead of a passive defense, he sacrificed it for active counter play. Kramnik played on with an extra pawn but had to give it back to release the tension. Soon peace was signed in just 31 moves.