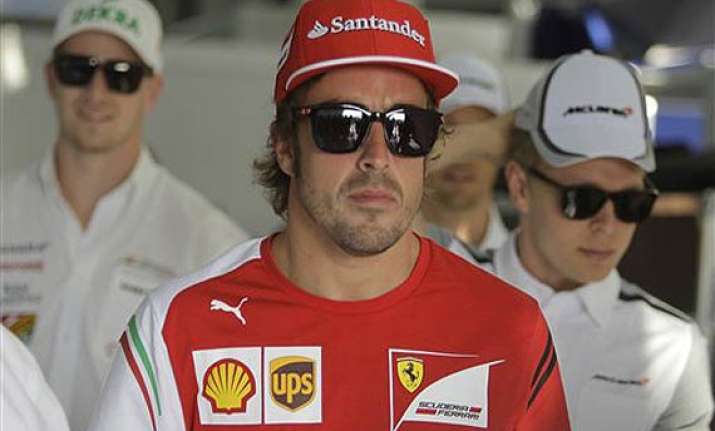 SHANGHAI : Ferrari driver Fernando Alonso doesn't expect a rapid turnaround for his struggling team following the resignation of team principal Stefano Domenicali, but he still has hopes the team can be competitive later in the F1 season.
Domenicali, who led the team for six years, stepped down this week following a poor start to the season. He was replaced by Marco Mattiacci, president of Ferrari North America.   
Alonso isn't confident the change in leadership will bring better results in the short term, with the team still struggling with the introduction of new fuel-efficient six-cylinder engines. But he hopes Mattiacci can help recognize the team's weaknesses so improvements can be made.   
"I think we need to give him time and try to see how he settles (in). It's too early to say if, you know, it will be a very good thing or very bad,"Alonso said Thursday in Shanghai ahead of this weekend's Chinese Grand Prix. "We are really hoping it will be a successful managing of the team and everyone is looking forward."   
Ferrari has been well off the pace of the Mercedes team in the first three races of the season, with Alonso's two fourth-place finishes in Australia and Malaysia the best the team could manage.   
"(Domenicali) was probably not any more in the mood to continue and with the feeling of taking the weight on his shoulders," Alonso said. "He made a very responsible move. It's not easy when you have a very privileged position in one Formula One team to be able to step back and to say, `Maybe it's better to move."'   
Domenicali helped Ferrari win the constructors' championship in his first year in charge in 2007, but the team failed to capture a driver's title under his guidance. Ferrari hasn't won a race since Alonso's victory at the Spanish Grand Prix almost a year ago, its worst run in nearly 20 years.   
Alonso noted that Ferrari narrowly missed opportunities to win a driver's championship -- Felipe Massa was close in 2008, while he lost out in the final race in 2010 and again two years later.   
"If not (for those misses), he could probably have three championships in his pocket," he said. "I think all the things the people ask from him he was giving to them. Probably, as I said, the results in the sport are important and the pressure at Ferrari is also quite big."   
Kimi Raikkonen, who returned to Ferrari this season after quitting the team on bad terms at the end of the 2009 season, said Domenicali's resignation came as a surprise.   
"Obviously that was Stefano's own decision, as I understood. If he felt like that, then fair enough and life goes on," he said. "It's sad because he was a great guy and I worked with him for many, many years."