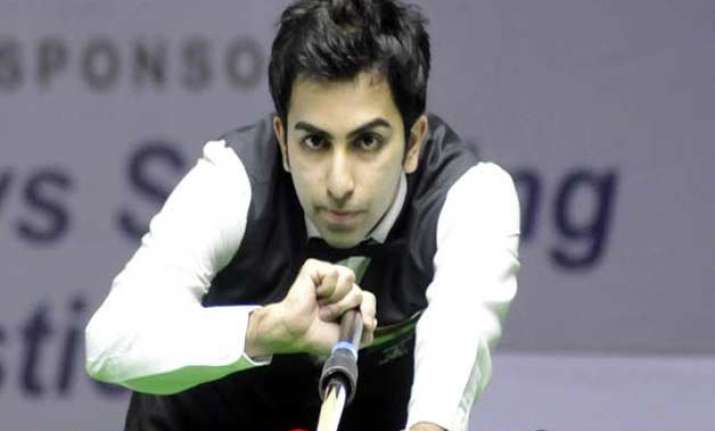 Kolkata: India's ace cueist and 12-time world champion, Pankaj Advani of PSPB, lifted his seventh national billiards title by convincingly shutting out his colleague Dhruv Sitwala at the BRC Gloster National Billiards Championship here Saturday.
Sitwala, who has reached two world championships finals and two national championship finals, Acould do little as Advani reeled out five straight frames victories "150(55, 80)-28, 150(150*)-00, 153(153*)-00, 150(82, 61*)-81(81), 153(50, 103*)-00.
"I was feeling on top of the world after posting back to back 150s because it does not happen very often. I'm extremely happy to produce my best game in the final," Advani said annexing his first national billiards title since 2012.
"Those two 150s in the second and third frames really put the match away from him. It would have been a totally different game had he (Sitwala) won the first frame."
Advani earlier won the title in 2005, 2007-2009, 2011 and 2012.
Sitwala's best came in the fourth frame when he posted a break of 81 but Advani upped the ante as he scored 150 with ease before sealing the issue in the fifth with finesse.
The 29-year-old Advani will now look to make a fourth double, and the first since 2009, by winning his pet event snooker, in which he will play his first match on Jan 20.
Railways player Siddharth Parikh took the third spot defeating B. Bhaskar of Karnataka 3-2 in a play-off.
SCORES:
Final
Pankaj Advani (PSPB) beat Dhruv Sitwala (PSPB) 5-0
150(55, 80)-28, 150(150*)-00, 153(153*)-00, 150(82, 61*)-81(81), 153(50, 103*)-00
"*" denotes unfinished breaks
3 & 4 Placing
Siddharth Parikh (RSPB) beat B. Bhaskar (Karnataka) 3-2
106-150(107), 150(110)-137, 15-151(103), 151(136)-00, 150(118)-114(107)