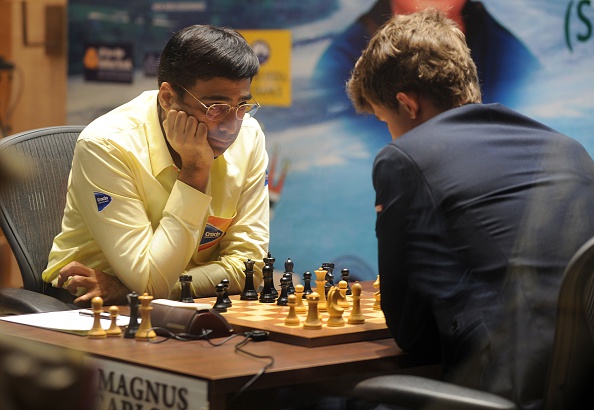 Five-time champion Viswanathan Anand, Vidit Santosh Gujrathi and Swapnil S Dhopade emerged victories in the sixth round of the Isle of Man International chess tournament. Gujrathi was the best-placed Indian at the second position after he defeated compatriot Harsha Bharathakoti, who is 308 rating points below him, in 42 moves after playing with black pieces. 
The second highest Indian in the fray, Gujarathi next takes on World Champion Carlsen Magnus of Norway.
After the sixth round, Anand and Swapnil S Dhopade were at the joint third place along with 16 others with 4.5 points. 
Playing with white pieces, Anand showed better precision and forced Sethuraman to surrender in 51 moves. He will face American Grandmaster Lenderman Aleksandr next, while Sethuram meets Spain's Vallejo Pons Francisco. 
Swapnil, on the other hand, took 49 moves to overcome Norwegian grandmaster Tari Aryan. The Indian will meet Richard Rapport, a Hungarian Grandmaster. 
Three-time bronze medallist at World Cup, Harika Dronavalli notched up a much-needed win over England's Houska Jovanka and will play Vladimir Kramnik, the Classical World Chess Champion from 2000 to 2006 and the undisputed World Chess Champion from 2006 to 2007. 
Harika was at the 41st spot with 3.5 points. 
Meanwhile, 12-year-old R Praggnanandhaa showed great resilience as he battled for 88 moves before signing a truce with Swedish grandmaster Grandelius Nils. The young prodigy will square off against Armenian-born American grandmaster Varuzhan Akobian next. 
Among other Indians in the fray, Sunilduth Lyna Narayanan saw off compatriot Adhiban B in 65 moves. 
Carlsen holds the top position at 5.5 points, while American duo of Fabiano Caruana and Nakamura Hikaru were at the joint third spot after round 6.
(With PTI Inputs)