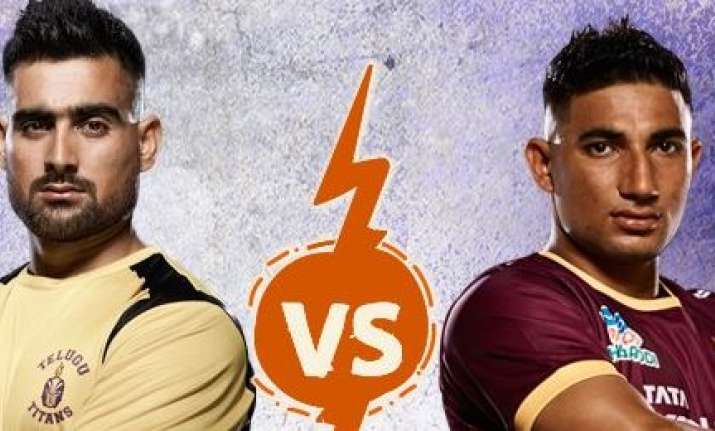 Debutants U.P. Yoddha thrash Telugu Titans 31-18 in the match no. 8 of season five of Pro Kabaddi League 2017 at the Gachibowli Indoor Stadium in Hyderabad. This was Telugu's third straight loss in this edition of PKL 2017. UP was led by brilliantly by an enigmatic all-rounder Nitin Tomar who showed no nerves while captaining the new franchise. Titans Rahul Chaudhari gets the 'Perfect Raider' award for seven raid points, whereas, 'Player of the Match' was given to Nitesh Kumar of U.P. Yoddha. Nitesh scores five tackle points for Yoddha's.
HIGHLIGHTS FROM TELUGU TITANS vs U.P. YODDHA, PRO KABADDI LEAGUE 2017
Playing to win! It was a dream debut for @UpYoddha as they defeat @Telugu_Titans 31-18! #VivoProKabaddi #HYDvUP

— ProKabaddi (@ProKabaddi) August 1, 2017
22.04 IST: U.P. Yoddha beat Telugu Titans by 31-18. 
22.03 IST: Point in defence for U.P. Yoddha, they lead by 13 points 31-18 vs Titans
22.02 IST: Nitin picks up one two more points for U.P., Yoddha 30-18
22.01 IST: Rahul Chaudhari out off the mat once more, U.P. 28-18
22.00 IST: Super Tackle for U.P. Yoddha! Two important points for U.P. 27-18 vs Telugu 
21.58 IST: Titans pick up a crucial point in defence, Telugu Titans 18-25
21.55 IST: Point for Rahul in raiding once again, Titans 17-25
21.54 IST: Point for Rahul Chaudhari in Do-or-die raid,  Telugu Titans 16-25
21.53 IST: One point for Telugu Titans in defence, Titans 15-25
21.51 IST: Strong defence from U.P. Yoddha's, they are leading by 11 points. U.P. 25-14 
21.50 IST: Yoddha get one point in raiding, U.P. 24-14 
21.47 IST: Telugu Titans All-out! U.P Yoddha lead by nine points, 23-14 vs Telugu Titans 
21.46 IST: Titans get one point, Telugu 14-19
21.45 IST: Another point for Nitin Tomar, U.P. 19-13
21.43 IST: Telugu Titans ask for a TV Review!
21.42 IST: Super Raid for U.P. Yoddha! Three points for Yoddha, U.P. 17-13
21.39 IST: Outstanding stuff from Rahul Chaudhari, Titans 13-14
21.39 IST: Bonus Point for U.P. Yoddha, Yoddha lead 14-12 vs Titans
21.38 IST: Point for Telugu Titans in raiding, Titans 12-13 
21.36 IST: One point for U.P. Yoddha, U.P. 13-11
21.32 IST: U.P Yoddha lead 12-11 vs Telugu Titans at half-time.
21.31 IST: Titans get one back in raiding, Telugu 11-12
21.30 IST: Rishank Devadiga picks up another brilliant point for Yoddha's, U.P. 12-10
21.30 IST: Rakesh Kumar gets a point for Telugu in raid, Titans 10-11
21.28 IST: U.P. is showing great skill in defending, Yoddha lead 11-9 
21.27 IST: Point for Telugu Titans in defence, brilliant chain tackle for the yellow side. Titans 9-10 
21.25 IST: U.P get Rahul Chaudhari off the mat, Yoddha 10-8
21.24 IST: One point for U.P. Yoddha, they lead 9-8
21.23 IST: Bonus Point for U.P. Yoddha, it's 8-8
21.23 IST: Rahul gets one more point, great stuff from the Telugu skipper, Titans 8-7
21.21 IST: What a point from U.P. in raiding, Yoddha lead 7-6
21.19 IST: Point for Rahul Chaudhari in raiding, Titans 6-6 U.P. Yoddha
21.19 IST: Point in defence for Telugu, Titans 5-6
21.18 IST: Another point for U.P., Yoddha 6-4
21.17 IST: Rishank picks up a brilliant point in raiding, U.P. leading 5-4
21.16 IST: Point for U.P. Yoddha's in defence, it's 4-4
21.15 IST: Nitin picks up one more point in raiding, U.P 3-3 Telugu
21.14 IST: Rishank picks up point in raiding, U.P. 2-2 Telugu
21.13 IST: Titans pick up one more point, brilliant stuff from the home team. Telugu 2-1
21.12 IST: Rahul Chaudhari starts off in an emphatic fashion, Titans 1-1 Yoddha
21.11 IST: U.P. Captain Nitin picks up the first point for the debutant team, Yoddha 1-0 Titans
21.06 IST: 
The #TitanArmy have won the Matchday Panga! Can @Telugu_Titans make a strong comeback tonight? #VivoProKabaddi pic.twitter.com/U4TErTpkwV

— ProKabaddi (@ProKabaddi) August 1, 2017
21.03 IST: 
#VivoProKabaddi's top scorer will face off against the most expensive player when @Telugu_Titans take on @UpYoddha! Who'll dominate? #HYDvUP pic.twitter.com/fRQP1bFpuj

— ProKabaddi (@ProKabaddi) August 1, 2017