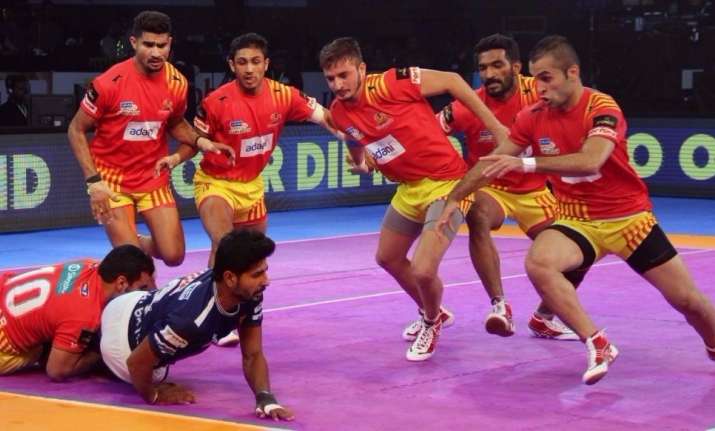 Gujarat Fortunegiants made a blazing debut as they routed Dabang Delhi 26-20 in the fifth edition of the Pro Kabaddi League (PKL) at the Gachibowli Indoor Stadium on Tuesday. Dishing out a defensive masterclass, Gujarat forced an all-out once in each half as they cruised to the big win. Star defenders Fazel Atrachali (four points) and Abozar Mohajermighani (two points) - both standing at either corners - made their presence felt in a tremendous fashion.
Sukesh Hegde, Rakesh Narwal and Sachin bagged three raiding points each for Gujarat.
R. Sriram's late show was the only bright spot for Delhi. Sriram bagged five points from just eight raids, while Anand Patil accumulated three touch points.
But Delhi will like to forget the disastrous evening as soon as possible. They were never in contention in the match. Gujarat made an impressive opening, taking a 3-0 lead when Meraj Sheykh was caught, while Sachin raided successfully to make it 2-0 and Delhi's Abolfazl Maghsodlou side-stepped during his raid.
Reduced to four men, Delhi tackled Sachin to open their account but Rohit Baliyan was tackled by Gujarat as the latter led 4-1.
Sachin was caught again as Delhi then trailed 2-4, reviving Sheykh, who again had his way out giving Gujarat 5-2 advantage.
Delhi then earned two quick points when they tackled Rakesh Narwal and in the very next action, raider Abolfazl brought home a point.
Sachin then recovered to hand Gujarat a 6-4 lead which became 7-4 after Abolfazl was caught. Rakesh Narwal's raid made it 8-4 for the western outfit which dished out an impressive show.
By eliminating Sheykh and Abolfazl, Gujarat stopped Delhi's attack. Anand Patil earned a bonus point to reduce the deficit to one.
But the danger of an all out was looming large and Nilesh Shinde side-stepping in defence made it 9-5 for Gujarat.
Then Patil was tackled, leaving Bajirao Hodage as the last man standing as Gujarat led 14-5 with Delhi's all out a couple of minutes before the end of first half. At half-time, Gujarat led by a 10-point gap.
The script didn't change much in the second half, with Gujarat forcing another all out on Delhi within 10 minutes as they lead 25-9.
Afterwards, Delhi put up an improved show as Gujarat dropped their energy as the match was almost sealed.
Delhi stretched Gujarat and substitute Sriram made the most of the limited chances. Gujarat were all out with one minute and 38 seconds to go. 
The Capital outfit salvaged some pride by ending the match with a six-point deficit.
(With IANS Inputs)