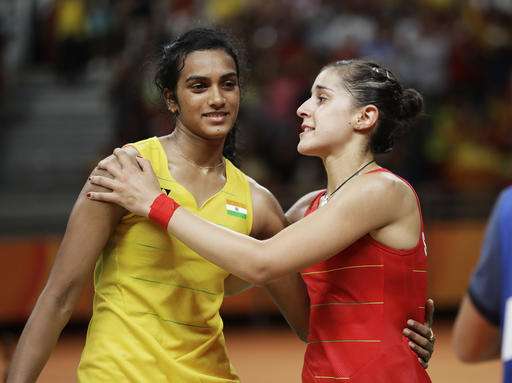 Reigning Olympic champion Carolina Marin of Spain defeated Rio Games runner-up P.V. Sindhu 11-8, 12-14, 11-2 in the opening match of the Premier Badminton League 2017.
The Spanish southpaw ensured a 1-0 lead for Hyderabad Hunters over Chennai Smashers in the highly anticipated match.
The tie was a close fought one and Marin had won the first game 11-8. But Sindhu made a return by winning the second game 12-14. However, the third set proved to be a swift sail for Marin as she outclassed Sindhu with a huge margin of 11-2.
Delighted with her win, Marin said: "It was a wonderful match and the way the crowd was behind, it was wonderful. Their support meant and lot and helped me to perform a lot better."
Playing for her franchisee Chennai Smashers, this is Sindhu's first loss in the PBL. She had six consecutive wins in the first edition of the tournament. 
It was technically Marin's home game as she was representing Hyderabad Hunters. But the cheers seemed to be all for Sindhu with the crowd exploding whenever she got a point.
But Tommy Sugiarto pulled Chennai level with an 11-6, 11-8 win over B. Sai Praneeth.
British Adcock couple, Chris and Gabrielle won Chennai's 'Trump Match' over R. Satwiksairaj and Hoi Wah Chau 11-7, 11-9 to give the visitors the 3-1 advantage.
Trailing 1-3, the hosts needed to pull off their socks and they managed to make a sensational comeback as Rajiv Ouseph beat Tanongsak Saensomboonsuk 6-11, 11-8, 11-6 to make it 2-3.
Hyderabad's tactic of making the men's doubles match as their 'Trump Match' paid off as Malaysian experienced customers Tan Boon Heong and Tan Wee Kiong moved past Mads Pieter Kolding and B. Sumeeth Reddy 11-7, 11-8 to ensure a 4-3 victory for Hyderabad.
IANS inputs