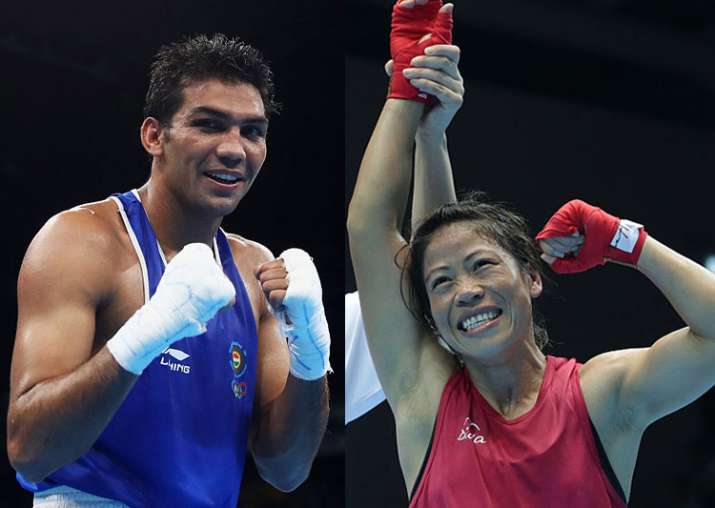 Seasoned boxers MC Mary Kom and Manoj Kumar will lead India's charge in boxing sport at the Commonwealth Games, starting April 4 in Gold Coast, Australia, the Boxing Federation of India (BFI) confirmed after naming its complete contingent for the prestigious tournament on Wednesday.
Naman Tanwar and Gaurav Solanki also made the cut after they booked their berths in the team by winning the category trials, held at the Indira Gandhi Indoor Stadium.
In the women's 51 kg weight category, Pinki Rani will spearhead India's challenge after her dominating run to the gold at the India Open.
Other flag bearers in the women's department, Laisharam Devi (60-kg) and Lovlina Boroghain (69-kg) will look to continue their dominating run of form and return with medals for the country.
In the men's 60 kg category, owing to Manish Kaushik's heroics against Shiva Thapa twice in the past, Manish will make the trip to Gold Coast and look to stamp his authority on the gold medal.
Highly decorated boxers Vikas Krishnan and Manoj Kumar will be leading the line in the men's department. After his gritty performance at the Strandja Memorial tournament, Amit Phangal, will also look to go the length of the championship. Also, accompanying them will be Hussam Mohammed in the 56-kg category.
Late inclusions to the squad were World Youth bronze medalist Naman Talwar (91-kg) and the unheralded Gaurav Solanki (52-kg) after their trials were completed on Sunday.
India's boxing contingent for the 2018 Commonwealth Games
Women's
45-48kg: MC Mary Kom
51kg: Pinki Rani
60kg: Laisharam Devi
69kg: Lovlina Boroghain
Men's
46-49kg: Amit Phangal
52kg: Gaurav Solanki
56kg: Hussam Mohammed
60kg: Manish Kaushik
69kg: Manoj Kumar
75kg: Vikas Krishnan
91kg: Naman Tanwar
+91kg: Satish Kumar
(With ANI inputs)