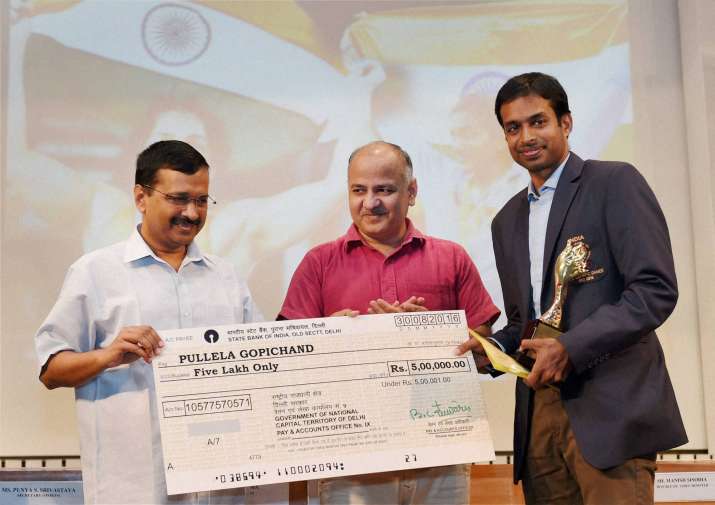 The Delhi government is planning to rope in the renowned badminton coach P Gopichand to promote sports in the national capital.
Arvind Kejriwal, the Delhi Chief Minister, gave hint to this effect while felicitating Olympic medallist PV Sindhu and Sakshi Malik during an event held at the Delhi Secretariat.
P V Sindhu bagged silver medal in badminton at the just held Rio games while Sakshi Malik won a bronze medal for wrestling at Rio 2016.
Both Sindhu and Sakshi were given Rs 2 crore and 1 crore respectively by the Delhi government.
Gopichand and Malik's coach Mandeep were given cheques of Rs 5 lakh each.
The Delhi government also felicitated Sindhu's physiotherapist besides the Olympic participants who are residents of Delhi. Athlete Lalit Mathur was handed over a cheque of Rs 3 lakh.
"Delhi government is making plans in the field of sports with Gopichand. We will have to encourage youths and provide them infrastructure for excellence.
"I will look forward that you (Gopichand) will now spend more time with Delhi. I can assure you that we have the best of intentions and we need the guidance the way he has guided P V Sindhu," Kejriwal said at the felicitation progamme held at the Delhi Secretariat.
He said it is the responsibility of administration to encourage youths for sports and provide all facilities to them.
"Instead of providing resources to youths, administration often becomes hurdles and we all should remove these hurdles.
"I hope that Delhi government will take steps in this regard … Sindhu and Malik have raised honour by winning medals at Olympics," the Delhi CM said.
"On the behalf of the people of Delhi, I congratulate you," he added.
Deputy Chief Minister Manish Sisodia said when Sindhu and Malik were playing at the Rio Olympic, the entire country was united and watching their matches forgetting all differences.
Earlier this month, the AAP government had also offered promotion to Sakshi's father, Sukhbir Malik, who works as a bus conductor in Delhi Transport Corporation (DTC).
(With PTI inputs)