Follow us on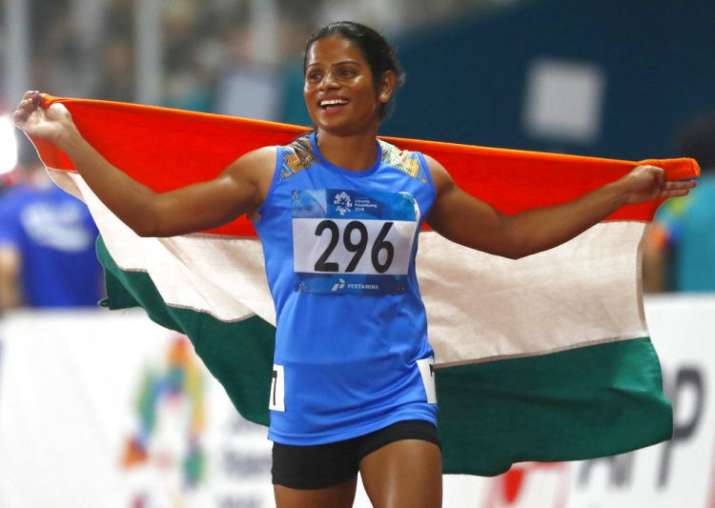 Indian sprinter Dutee Chand won a silver medal after she clocked 11:32 seconds to finish second in the Women's 100m Final event at the ongoing Asian Games 2018 on Sunday. It was India's first medal in 20 years in the 100m dash. Running in lane number 7, Dutee clocked 11.32 seconds, a tad below her national record of 11.29 seconds.
Nigeria's Edidiong Odiong finished on the top clocking 11.30 seconds, while Chinese sprinter Yongli Wei clocked 11:33 seconds to secure a bronze medal.
The 22-year-old from Odisha was taking part in his first Asian Games. She was suspended by the IAAF in 2014 under its hyperandrogenism policy but she filed an appealed before the Court of Arbitration for Sports and won it.
Recently, under a revised rule of the IAAF, Dutee was left outside the purview of the 
hyperandrogenism policy which gave her liberty to pursue her career.
India's last medal in this event was the bronze won by Rachita Mistry in 1998 Asian Games.
Earlier, Muhammed Anas and Hima Das claimed the silver medals in the men's and women's 400 metres races respectively.
Reigning Asian champion Anas completed the race in 45.69 seconds to be second, while Hima clocked a national record mark of 50.79 seconds to take the second place in the women's race.
The two other Indian competitors in the races, Rajiv Arokia and Nirmala finished fourth. While Rajiv timed 45.84 seconds to complete the men's 400m race, Nirmala finished the race in 52.96 seconds.
The men's title went to Qatar's Abdalelah Hassan, who completed the race in 44.89 seconds as he fended off Anas, who has a personal best of 45.31 seconds. Anas' personal best mark had given him a fourth-place finish in the 2018 Commonwealth Games.
Ali Khamis of Bahrain picked the bronze medal with a timing of 45.70 as he finished ahead of 2014 edition bronze medallist Rajiv. 
In the women's race, Bahrain's Salwa Naser produced a Games record timing of 50.09 seconds to finish ahead of 18-year-old Hima, who had renewed the Indian record of 51.00 seconds on Saturday in the semi-finals.
Assam girl Hima, the Under-20 world champion, was a sureshot medal contender but in the final, Naser, who had won a silver medal at the IAAF World Championships with a national record of 50.06 seconds, proved to be superior to the Indian.
The bronze medal went to Kazakhstan Elina Milkhina, who clocked 52.63 seconds to finish ahead of Nirmala.
(With agencies inputs)