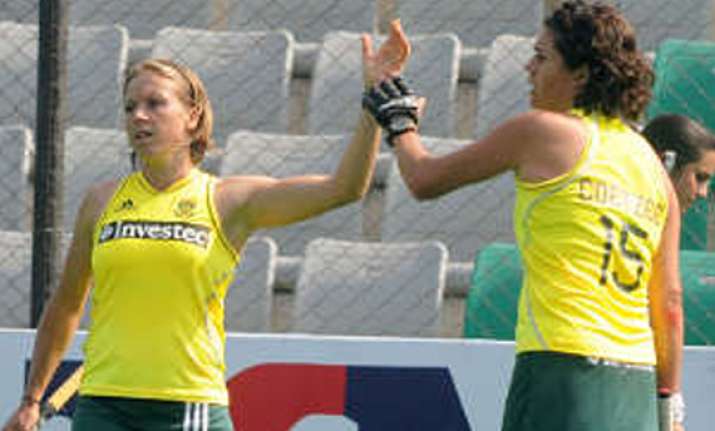 New Delhi, Feb 18: Favourites South Africa beat Poland 2-1 in the first match of Olympic women hockey qualifiers at Major Dhyan Chand Stadium here today.

The South Africans  had trouble getting their rhythm and the first scoring chance was for Poland, Natalia Wisniewska shooting just wide after a long run tearing through the South African defence.

The Polish players were the more enterprising in the first half, often penetrating the rival defence but they could not seriously threaten Mariette Rix in the South African goal.

The South African fans in the stands tried to shake up their squad with their noisy vuvuzelas, but the score remained 0-0 at the break.

South Africa found their form early in second half, promptly forcing two penalty-corners, with Kate Woods scoring the second with a direct shot. Their joy was, however, short lived with Magdalena Zagajska scoring for Poland at the other end less than 30 seconds later.

The South Africans were moving the ball efficiently in the midfield but the compact Polish defence kept its structure, preventing any shot at the goal.

The deadlock was finally broken in the 53rd minute when Pietie Coetzee received the ball at the far post and made no mistake to slot it under Marta Kucharska in the Polish goal.

The experienced South Africans controlled the final ten minutes of the match but could not increase their narrow margin.