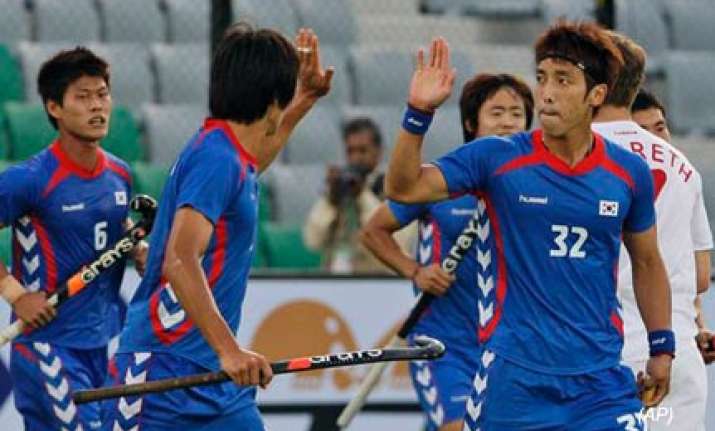 Drag-flicker Jong Hyun Jang struck thrice as nimble-footed South Korea drubbed lowly Canada 9-2 in a high scoring match to keep their semifinal hopes alive in the hockey World Cup in New Delhi on Sunday .Jang scored in the 35+3, 45th and 61st minutes while Hyun Woo Nam (23rd and 67th) and Hyo Sik You (41st and 63rd) struck twice each in the one-sided Pool A match. 
Lee Nam Yong (38th) and Sung Hoon Yoon (40th) found the target once in the match, which saw second highest number of goals being scored in this World Cup, after Australia's 12-0 mauling of South Africa. 
For Canada, who are already out of contention for a semifinal spot after losing all their earlier three matches, Philip Wright scored twice in the 42nd and 51st minutes at the Major Dhyan Chand National Stadium. 
The match lacked spark in the first session which the Koreans dominated by taking a 2-0 lead. But the second half saw an open and attacking hockey from both the sides and that resulted to as many as eight goals being scored. 
The chances of the Koreans, who have seven points after four matches -- with two wins, one draw and a loss -- to qualify for the semifinal now depend on their March 9 match against title contenders the Netherlands. Neither side did create any goal-scoring chance in the first 15 minutes though South Korea had more ball possession and attack. PTI