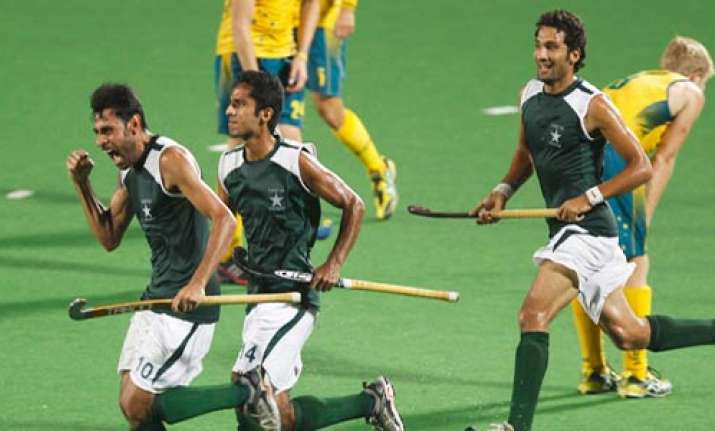 Ipoh, May 15:  Australia  won the Azlan Shah Hockey Cup here today beating Pakistan 3-2 in a tense encounter.

Australia sealed the win with a golden goal in the 83rd minute courtesy of Christopher Ciriello who also scored the opening goal of the match during which Pakistan were left trailing twice but equalized through Sohail Abbas and Rehan Butt. Australia grabbed the lead the second time through Glenn Turner.

Australia were awarded their first penalty corner in the 7th minute but Pakistan's goal keeper Imran Shah made a good save to deny Ciriello. The save from Shah was in vain as Ciriello scored in the 12th minute through another penalty corner.

After Australia had the lead, Pakistan were looking dangerous and Butt's rebound shot off Mohammad Rizwan's attempt was saved by George Bazeley followed by another attempt by Haseem Khan which was sent wide into the side netting.

Pakistan's  first penalty corner which came in the 28th minute was wasted as Abbas failed to score. However, two minutes later, Pakistan were awarded another penalty corner and Abbas made no mistake as he scored the equalizer.

Minutes before half time, Australia were awarded another penalty corner which they failed to convert.

Australia grabbed the lead in the second half through Turner in the 44th minute minutes after which Butt missed a sitter. But soon Butt got a chance to make amends for his miss when he equalized through a penalty corner in the 62nd minute.

Australia were denied once more by Shah before the match went into extra time with the score tied at 2-2.

Australia's first penalty corner in extra time was well saved by Shah who made another brilliant save off Turner's shot to help the Green Shirts hold on. Pakistan's chance to win came in the 78th minute but it was wasted as Mohammad Imran's strike was saved by Bazeley.

Australia wrapped up the final in the 83rd minute as Ciriello scored from a penalty corner.

Pakistan had started off their tournament with two successive wins against New Zealand and South Korea followed by successive defeats against Great Britain and Australia after which they came out on top against India and Malaysia to reach the final.

Pakistan's former Olympian Samiullah praised Pakistan's performance and said that the Green Shirts had put up a marvelous performance.

"Australia is the best team in the world, however it was very good to see the green-shirts perform brilliantly against them and took the game into extra-time, which frankly I didnt expected from them" Samiullah told PPI.

 "Australia won through the golden goal and in that phase the match could have gone either way and I think it was only bad luck for Pakistan as they lost in extra-time, otherwise Pakistan was the better side in the final" he added.