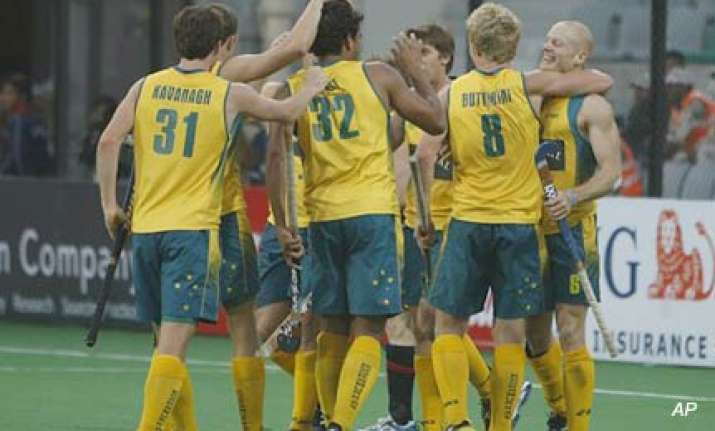 Australia continued with their impressive form after the initial hiccup and inched closer towards a semifinal spot beating Olympic silver medallist Spain 2-0 in a crucial Pool B match of the Hero Honda FIH World Cup in New Delhi on Saturday . With this victory, Australia not only pocketed three vital points but also took revenge of their semifinal defeat at the hands of the Spaniards in Beijing Games. 
Luke Doerner (20th) converted his sixth short corner of the tournament in the 20th minute and then Glenn Turner doubled the lead for the Aussies in the 60th minute. 
The win almost assured Australia a place in the last-four stage and a draw against Pakistan in their last match on Monday would be more than enough for Ric Charlesworth's boys to secure their place in the semifinal. Australia is in the most comfortable position in Pool B with a goal average 16 in their favour. 
Spain, on the other hand, has no option but to win against England in their last match and then wait for the results of other matches of the pool. 
The Aussies started from where they left against South Africa and got their first scoring opportunity in the sixth minute when Matthew Butturni dodged past several defenders to set up the ball for Grant Scubert, whose subsequent shot from top of the circle was brilliantly saved by Spanish goalkeeper Francisco Cortes. PTI