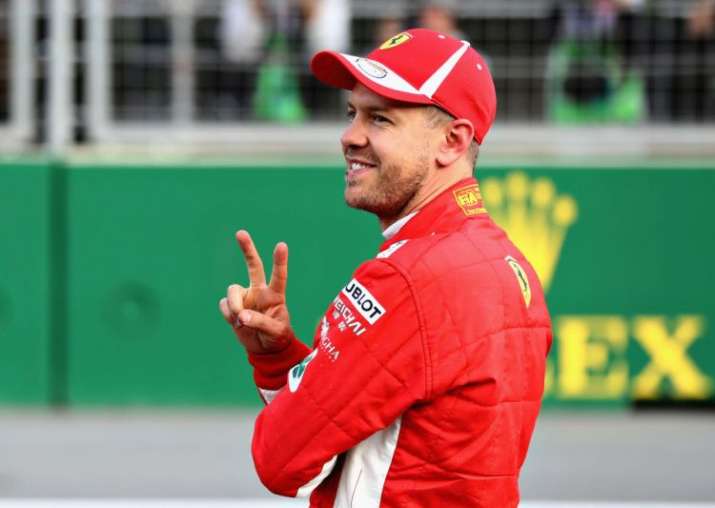 Sebastian Vettel qualified in pole position on Saturday for the third straight time this season ahead of the Azerbaijan Grand Prix. The Ferrari driver, who leads the championship standings, beat his closest title challenger Lewis Hamilton by 0.179 seconds to take the top spot for Sunday's race in Baku.
Saturday's cooler, windy conditions seemed to favor Vettel and Ferrari, who had struggled for grip in Friday practice.
"When it clicks, it just keeps coming and it was really enjoyable," Vettel said.
Baku's tight corners and narrow streets mean any incidents in the race will likely mean the safety car comes out and could offer chances for drivers starting further back.
"I think it will be an intense race," Vettel said. "Anything can happen, safety cars are very, very likely."
Hamilton promised a tough race.
"We did the best job we could. It was very, very close," Hamilton said. "We're going to try to give Sebastian a hard time tomorrow."
Hamilton's Mercedes teammate Valtteri Bottas was third, 0.160 seconds off Hamilton's time. Red Bull's Daniel Ricciardo was fourth after barely scraping into the top-10 shootout.
Vettel's teammate Kimi Raikkonen was heading for pole position until he slid the car. He qualified sixth.
Toro Rosso's Pierre Gasly almost smashed into his teammate Brendon Hartley in the first session when Hartley was driving slowly due to a puncture. Gasly had to go into a runoff area to avoid a collision, ruining his lap.
"This is unacceptable," Gasly shouted over team radio, while Hartley apologized for getting in his teammate's way, saying he felt "pretty stupid."
The two drivers collided at the last race in China.
Romain Grosjean qualified last for Haas after sliding off the track and stalling, meaning he failed to set a time.