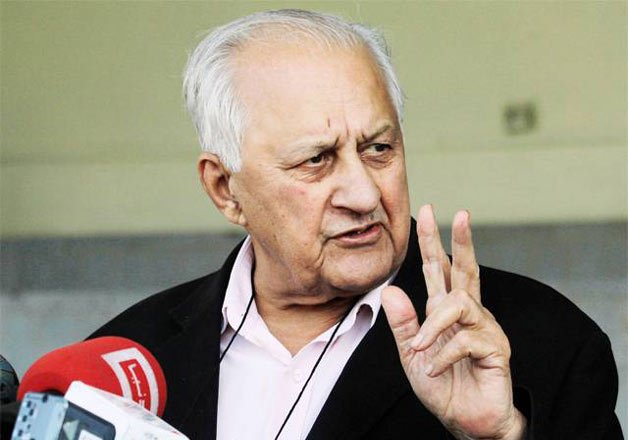 Karachi: With time running out for the proposed India-Pakistan cricket series, the PCB has said it would call off the much-talked-about rubber if the Indian government does not give its approval in the next couple of days.
Pakistan Cricket Board (PCB) Chairman Shaharyar Khan said that the PCB would wait for a day or two before shelving plans for the short limited-overs series which was planned this month in Sri Lanka.
"After that the series will be off," he said.
Khan said chances of the series being organised now were very bleak since the resumption of cricketing ties between the two countries was not discussed by the Indian foreign minister Sushma Swaraj during her meetings with Pakistani officials in Islamabad.
"To be honest the chances of the series being held now are very bleak because we have been told cricket was not discussed in the meeting between the Indian foreign minister and Prime Minister Nawaz Sharif," Khan said.
"We were hopeful that Sushma Swaraj's visit will make things better but it did not happen," he was quoted as saying by Waqt News.
"We wanted to play, but India did not respond positively. It is already too late to organise the series and we don't have time for the series anyway," he said referring to the proposed series in Sri Lanka where the teams were expected to play three ODIs and T20 internationals.
The PCB said that they are mulling legal options if the series is indeed cancelled.
"If the series is not held we stand to lose out on around USD 40 to 50 million and we had already started making preparations for the series in Sri Lanka which included hotel bookings," the PCB chief told PTI.
"We were hopeful that there would be good news when cricket was discussed in the meeting between the Indian minister and Pakistani officials but that has not happened. We are disappointed."
Khan said the PCB will review its future policies and brief its governing board members on the developments.
"Not having the Indian series is a big setback for us financially. And we were expecting that the Indian board would get clearance from its government as they have signed a proper MOU with us. We also need to look at the future of the rest of the series laid out in this document."
To a question, Khan said Pakistan's participation in the World T20 in India in March will depend on getting permission from its government.
"The government had given clearance for us to play a short series with India in Sri Lanka but that has not happened so far," he added.
According to ICC's Future Tours Program, India and Pakistan are supposed to play six series between 2015 and 2023 with four to be hosted by Pakistan.
Pakistan and India have not played a bilateral series since 2007. India stalled cricketing ties in the aftermath of 2008 terrorist attacks on Mumbai, which were blamed on militants based in Pakistan. Pakistan, however, had toured India for a short ODI series in 2012.