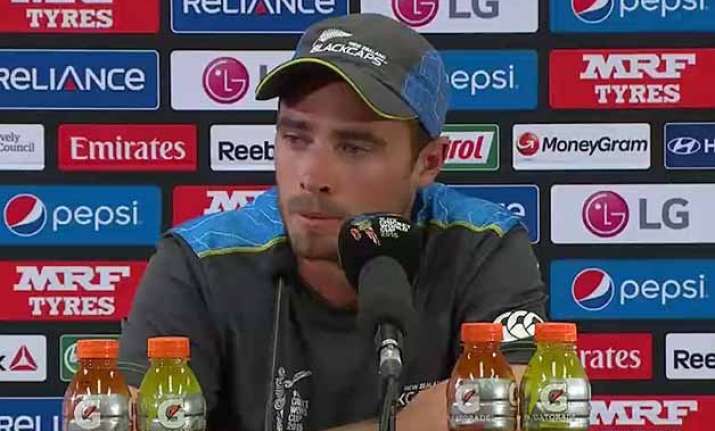 Tim Southee who took 7-33 in the most destructive spell in New Zealand's limited-overs history as the tournament co-hosts crushed England by eight wickets on Friday. He was given the man of the match for his superb performance. Talking with the media persons the speedster spoke on various topics.
Q:How do you see your performance with the ball in today's match?
Southee: "Yeah, someone had mentioned (how well I was bowling) it at the time. Of course, you take the personal accolades but it's a credit to the way we have bowled as a group over a period of time now.
And I guess today is one of those days now where we got the rewards. I'm sure there will be another time where we're bowling just as well and someone else will take their rewards. It's funny game of cricket, and I think it was testament to the way we had bowled as a group for a number of games now."
Q: What is your opinion on New Zealand achieving the 124 needed for victory in 12.2 overs?
Southee: "It was all a bit of a blur. I think it will be something we'll look back on in time and think of how amazing this occasion was. A full house here at the Cake Tin. It was great just going out there and having the national anthems and having that many people in behind you and I think that's a testament to the brand of cricket we have been and it is getting people through the gates and watching an exciting brand of cricket.
Q: How do you look at England's performance today?
Southee: "Yeah, I guess a little surprised. They are a quality side, and I'm sure they'll bounce back from this performance. They've got some world class players and they're not far away from, I guess, showing what they're capable of."
Watch Video: