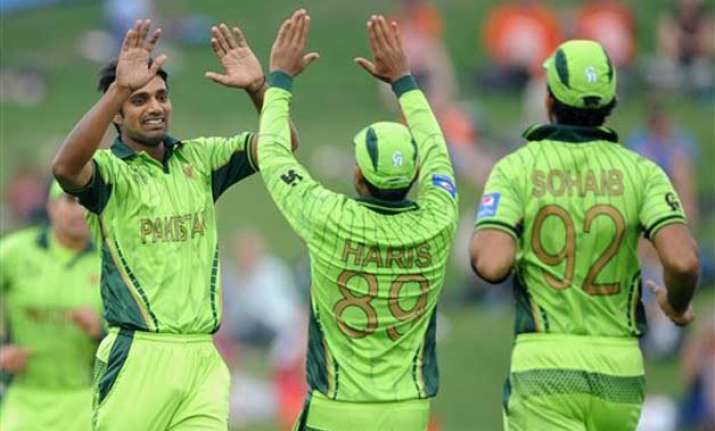 Napier, New Zealand: Pakistan finally joined the 300 club at the Cricket World Cup on Wednesday, scoring 339-6 and holding the United Arab Emirates to 210-8 to complete a 129-run win in Pool B which improved its chances of progressing to the quarterfinals.
Opener Ahmed Shehzad scored 93 and Haris Sohail contributed 70 in a 160-run second-wicket partnership which helped Pakistan recover from a hesistant start, then captain Misbah-ul-Haq (65) and Sohaib Maqsood, who hit 45 from 31 balls, helped add 124 from the last 10 overs.
Pakistan was out for 224 in losing to India by 76 runs, 160 in losing to the West Indies by 150 runs and 235-7 in beating Zimbabwe by 20 runs. Its failures with the bat were more glaring at in a tournament in which teams have surpassed 400 twice and 300 12 times in 24 matches.
If Pakistan had won Wednesday's match by more than 144 runs it would have moved ahead of the West Indies on net run rate, further improving its chances of qualifying from a tight group. But it had to win first and foremost, with difficult matches remaining against South Africa at Auckland on Saturday and against Ireland, which also remains in quarterfinal contention.
"That was a much-needed win for us and obviously we won by a margin so we can relax a little bit that we improved," Misbah said. "But the next game is very, very important and I think we need to focus on that."
Pakistan may have suffered a big setback ahead of the match against South Africa when giant fast bowler Mohammad Irfan limped from the field after bowling only three overs, with what appeared to be a hamstring strain. The loss of the 7-foot-1 Irfan from Pakistan's already-depleted bowling lineup would be a heavy blow.
Sohail took up the slack and captured the early wickets of Andri Rafaello and Krishna Chandran — both caught behind — as the United Arab Emirates slumped to 25-3. The loss of those early wickets made the run chase untenable and, while Khurram Khan (43) and Shaiman Anwar (62) combined in an 83-run partnership for the fourth wicket, the run rate required climbed above 10 per over by mid-innings.
Anwar has now scored 270 runs in four innings at the tournament at an average of 67.5 with a century and two half centuries.
Shahid Afridi grabbed 2-35 from his 10 overs to stifle any further chance of a fightback, though the UAE batting effort was still spirited. Swapnil Patil made 36 and Amjad Javed 40 in a 68-run partnership which swelled the total and ensured UAE batted out its 50 overs.
"There were quite a few positives from the batting side," UAE captain Mohammad Tauqir said. "Batting all 50 overs was a very good effort."
UAE also bowled well at the start and Pakistan struggled again to give its innings early impetus. It was only 10 in the fourth over when opener Nasir Jamshed, who has scores of 0 and 1 in his previous two matches in the tournament, fell to a mis-timed pull shot.
Pakistan struggled to 68-1 after 15 overs but Shehzad and Sohail put on 80 in the next 15 to give their team a chance, with wickets in hand, of attacking a score in excess of 300.
Manjula Guruge was the best of the UAE bowlers with 4-56.