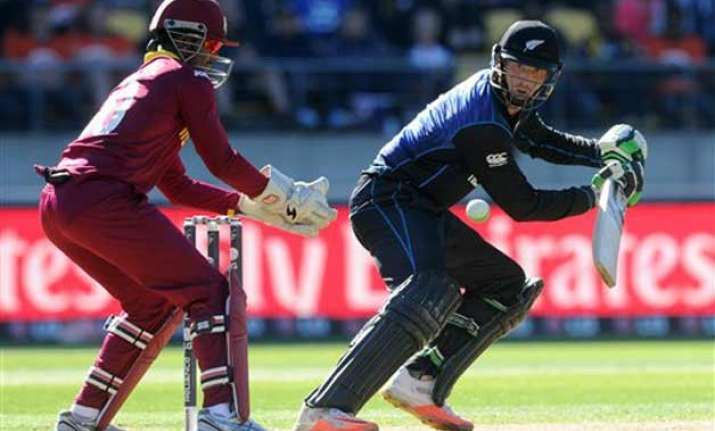 Wellington: Scoreboard of New Zealand vs West Indies, Quarterfinal 4 of the ICC World Cup 2015 played at Westpac Stadium here Saturday.
Martin Guptill bludgeoned his way to the record books with the highest individual World Cup knock as New Zealand rode on the opener's swashbuckling unbeaten 237 to crush West Indies by 143 runs and sail into the semifinals of the mega event.
Batting first in the fourth quarterfinal game, New Zealand notched up an imposing 393 for six, then bowled out West Indies for 250 in 30.3 overs to set up a blockbuster last-four clash with an in-form South Africa at Auckland on March 24.
For the record, this was heaviest defeat suffered by any team in terms of runs in the knockout rounds of World Cup.
New Zealand innings: 393/6 in 50 overs
| | | |
| --- | --- | --- |
|  Martin Guptill |  not out |  237* |
|  Brendon McCullum |  c Holder b Taylor |  12 |
|  Kane Williamson |  c Gayle b Russell |  33 |
|  Ross Taylor |  run out (Ramdin/Benn) |  42 |
|  Corey Anderson |  c Gayle b Russell |  15 |
|  Grant Elliott |  lbw b Taylor |  27 |
|  Luke Ronchi |  c Benn b Taylor |  9 |
|  Daniel Vettori |  not out |  8* |
|  Extras |  (lb 2, wd 7, nb 1) |  10 |
|  Total |  for 6 wickets |  393 |
|  Overs |  innings break |  50 |
|  Fall of wickets                              |  1-27 (McCullum, 4.2 ov), 2-89 (Williamson, 15.6 ov), 3-232 (Taylor, 38.3 ov), 4-278 (Anderson, 43.2 ov), 5-333 (Elliott, 46.3 ov), 6-365 (Ronchi, 48.4 ov) |                         |
Did not bat: Adam Milne, Tim Southee, Trent Boult
Bowling
| | | | | |
| --- | --- | --- | --- | --- |
|  Bowler |  Overs |  Maidens |  Runs |  Wickets |
|  Jerome Taylor |  7 |  0 |  71 |  3 |
|  Jason Holder |  8 |  0 |  76 |  0 |
|  Sulieman Benn |  10 |  1 |  66 |  0 |
|  Andre Russell |  10 |  0 |  96 |  2 |
|  Darren Sammy |  8 |  0 |  38 |  0 |
|  Marlon Samuels |  7 |  0 |  44 |  0 |
West Indies innings: 250 all out in 30.3 overs
| | | |
| --- | --- | --- |
|  Chris Gayle |  b Milne |  61 |
|  Johnson Charles |  b Boult |  3 |
|  Lendl Simmons |  c Guptill b Boult |  12 |
|  Marlon Samuels |  c Vettori b Boult |  27 |
|  Denesh Ramdin |  lbw b Boult |  0 |
|  Jonathan Carter |  b Vettori |  32 |
|  Darren Sammy |  c Ronchi b Anderson |  27 |
|  Andre Russell |  b Southee |  20 |
|  Jason Holder |  c Anderson b Vettori |  42 |
|  Jerome Taylor |  c Guptill b Southee |  11 |
|  Sulieman Benn |  not out |  9* |
|  Extras |  (wd 6) |  6 |
|  Total |  all out |  250 |
|  Overs |  match over |  30.3 |
|  Fall of wickets                              |  1-4 (Charles, 1.2 ov), 2-27 (Simmons, 5.3 ov), 3-80 (Samuels, 9.1 ov), 4-80 (Ramdin, 9.5 ov), 5-120 (Gayle, 16.1 ov), 6-166 (Sammy, 21.1 ov), 7-173 (Carter, 22.3 ov), 8-201 (Russell, 25.1 ov), 9-221 (Taylor, 27.6 ov), 10-250 (Holder, 30.3 ov) |                        |
Bowling
| | | | | |
| --- | --- | --- | --- | --- |
|  Bowler |  Overs |  Maidens |  Runs |  Wickets |
|  Tim Southee |  8 |  1 |  82 |  2 |
|  Trent Boult |  10 |  3 |  44 |  4 |
|  Daniel Vettori |  6.3 |  0 |  58 |  2 |
|  Adam Milne |  4 |  0 |  42 |  1 |
|  Corey Anderson |  2 |  0 |  24 |  1 |