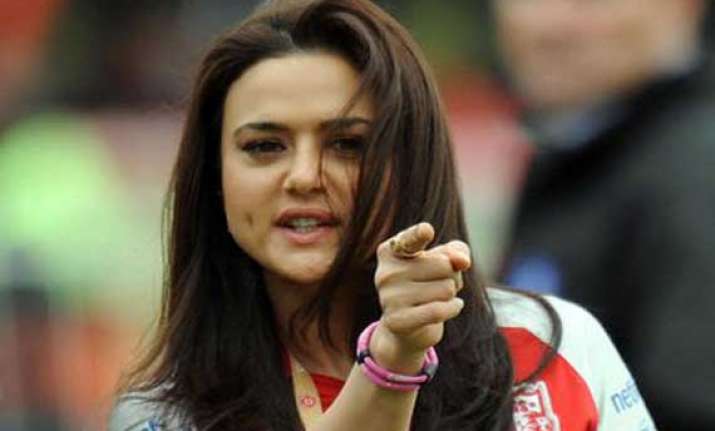 Mumbai: Embroiled in a controversy with her ex boy friend and co-owner of IPL franchise Kings XI Punjab over allegation of harassment, Actress Preity Zinta on Wednesday night refuted the reports that she is selling out her stake in Kings XI Punjab and settling down in USA.
She tweeted, "A big Thank U 2all the people 4the support. Amazed at how much speculation in the media. No I'm not selling my stake or settling in the US."
"SO called sources says anything & its getting reported. Pls No hearsay. There are many IMP Issues in India which are much more news worthy," she added.
Kings XI Punjab had lost to Kolkata Knight Riders in the final of the recent IPL competition.
The Preity Zinta-Ness Wadia mess turned murkier on Wednesday with the industrialist's group lodging a complaint with the police that gangster Ravi Pujari has warned it against "harassing" the actor.
The office of industrialist Nusli Wadia filed a case with the N M Joshi Marg police station on Tuesday, saying his personal secretary received a threatening call on the office phone followed by a text message on the mobile phone from someone claiming to be Pujari the day before.
Pujari, a splinter from Mumbai don Chhota Rajan's gang, is believed to be holed up in Australia and is wanted in Mumbai and Mangalore in over three dozen cases, mostly extortions bids. Police have registered a case of criminal intimidation and transferred it to the anti-extortion cell.
A crime branch official said when the caller wanted to speak to Nusli Wadia, he was told the industrialist was out of the country. He then left a message: "We are all from underworld. Preity Zinta should not be harassed or else... .''
Within an hour, the caller rang again, but the secretary disconnected. Soon, the secretary received a text message that said: "Give message to Wadia, don't f*** around with Preity Zinta or else I will f*** whole of your business. Don Ravi Pujari."
"Preliminary inquiries suggest the call was made using VOIP (voice over internet protocol, a technology that allows calls over the internet) and the mobile number from which Wadia's secretary received the SMS was from Iran," said police chief Rakesh Maria.
Bollywood personalities like Mahesh Bhatt, Karishma Kapoor's husband Sanjay Kapoor, Salman Khan, Farhan Akhtar, Akshay Kumar, Boney Kapoor and Viveck Oberoi have been at the receiving end of Pujari's racket.
Zinta's lawyer Hitesh Jain and the Wadia group spokesperson declined comment on the development.
Last Friday, Zinta had filed a complaint with the police against former boyfriend Ness, co-owner with her of IPL team Kings XI Punjab, accusing him of molestation and abusing her in public at Wankhede Stadium's Garware Pavilion during an IPL match on May 30. The Bombay Dyeing scion has denied the allegations as false and baseless.