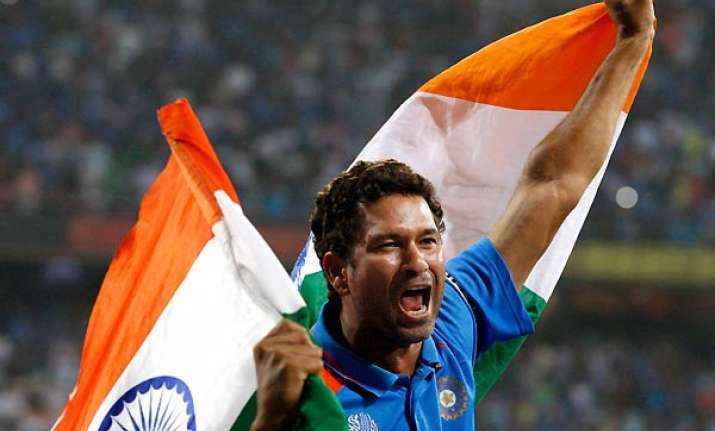 Mumbai, April 3: He rushed out of the dressing room with tears in his eyes, before laughing hysterically on being engulfed by his team-mates.Draped in the Indian flag, Sachin Tendulkar rode high on Yusuf Pathan's shoulders, his exhausted face displaying every single emotion on the happy side of the spectrum, shining with the flash lights of a thousand clicking cameras, reports The Indian Express.

He may have achieved almost everything in the world of cricket, but on Saturday, Tendulkar threw the word 'almost' out of his vocabulary, drowning himself in a sea of unprecedented celebrations.

As he took a lap of honour around his home ground, 33,000 fans screamed in pure ecstasy, congratulating him for finally achieving his holy grail at his sixth attempt — the coveted World Cup trophy.

The bandwagon passed Tendulkar from shoulder to shoulder, as they would do the shining golden trophy later, during their second lap around the ground. Tendulkar crouched over the broad shoulders of Harbhajan Singh, Virat Kohli and Suresh Raina along the way. It didn't seem a very comfortable ride for Tendulkar, but he was far from complaining.Never before had Tendulkar taken a lap around a stadium as a World Cup winner, let alone his home ground in Mumbai.