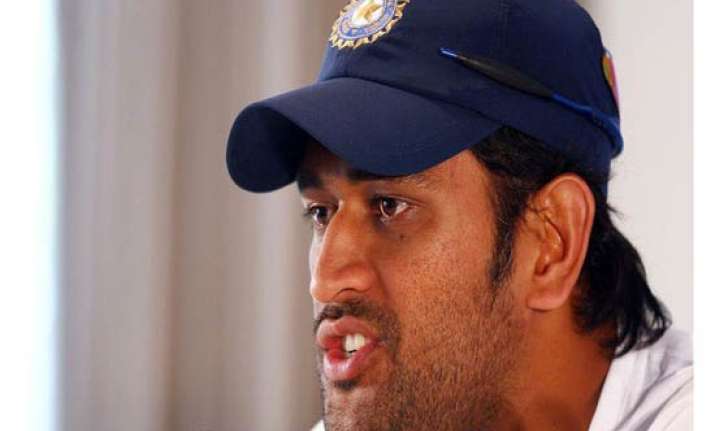 Chennai, Feb 15 :  Indian cricket captain Mahendra Singh Dhoni expects his team to raise the intensity as the World Cup approaches and he wants a proof of it in the second and final pre-event warm-up game against New Zealand here tomorrow.
"We need to pick up a bit of intensity on the field. We will be progressing into the World Cup games this being the last warm up match you will see the intensity will be bit up on the field," Dhoni said ahead of the match.
Brushing aside talk of World Cup, beginning February 19,being an acid test of his captaincy, Dhoni said challenges will always be there.
"Tests will always be there. There will be always something new coming up to present a different kind of challenge. So I think World Cup is also one of them. As far as the team is concerned, I feel we have got a very good side.That's what really matters," Dhoni said."I do not believe in comparisons. But if you see the mix of players, it is really good.
It is not about the kind of players we have got on paper, but what we do on the field which matters at the end of day," he added.
On the middle-order batting collapse in the first warm-up tie against Australia, which India won by 38 runs due to a good bowling performance, Dhoni said "I think we needed a partnership in the middle, which didn't really happen for us.That was one of the reasons we were not able to score big.
"The lower order's contribution of 49 helped us. At the end of the day, we didn't really have a par score on the board as we made 214. But spinners really bowled well they used the conditions well," he added.
Talking about the preparation and the likely playing XI in the World Cup, Dhoni said, "most of the players are doing well which means that for one or two spots we are talking about, you have one or two contenders trying to grab the place.
"It is really good for the side, because this means we have got more options and more the options the better it is.The selection depends on the condition of wicket for each game and as to how we read the wicket. It is really good for the side that everyone is shaping up well for the tournament," he added.
Dhoni said Zaheer would be rested from tomorrow's match to allow him time to recover from a groin injury."
As I have already said it is a very mild groin strain and nothing to worry. It is just that we can give him rest and that is one of the reasons why we are providing him rest. We will play him in World Cup matches," he said.
India's World Cup opener is against the tricky Bangladesh. Dhoni said a lot would depend on how the wicket behaves in the match.
"As for conditions, the wicket's behaviour will depend on how it has been prepared. That will be one basic difference.We have to see whether the dew factor will be
there or not,"he explained.
"Last time when we toured Bangladesh in January, there was lot of dew. But now it is close to February. We have to see whether dew will be there. Accordingly we have to pick our best 11," Dhoni said.
The pitch here has been criticised as "under-prepared" by Australia and South Africa but Dhoni said it was natural for foreign teams feel a bit ill at ease with spinning tracks here.
"There was no criticism about wicket. When you play abroad there is bound to be a bit of pace and bouncy movement.Turn is quite natural to Indian pitches. That's the
big challenge once you come to India. As far this wicket, I had a look at it. It is quite damp right now. So I can't predict how it will behave.
"We have to see before the start of the game. We will be a bit cautious as far as using players. We won't overuse any one. Of course, most of the spinners, part-timers
and batsmen look 100 per cent fit. That will definitely feature in the guys who will be playing and who will be bowling their full quota of overs," he said.
Dhoni described New Zealand as a side which relies on collective performances."New Zealand have always been a very contributive side and they always don't depend on
any one particular batsman or one particular bowler to win the game. What they need is that everyone to contribute. They are a very talented side," he said. PTI