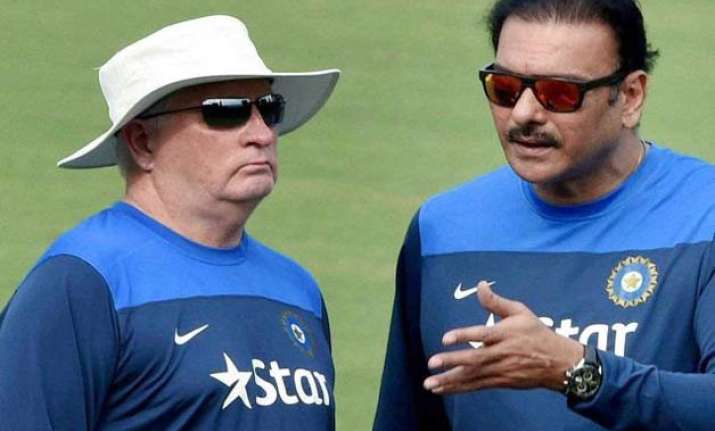 Perth:  Indian team has performed to its potential in the World Cup so far despite having being "mentally drained" by the preceding tri-series, according to Team Director Ravi Shastri who on Tuesday dismissed that series as "sheer waste of time and energy".
"I think the team was mentally drained after playing the tri-series. The boys needed to recharge their batteries and freshen up for the World Cup. The break from cricket did them a world of good as they came all guns blazing when it was required. And frankly speaking, I believe that this tri-series that we played was sheer waste of time and energy," Shastri told PTI.
Shastri was not surprised by India's stunning turnaround of fortunes in the mega event where they have already won all their matches, including the one against South Africa, convincingly.
"I am not at all surprised. In fact, why should I be surprised that the team has started on a magnificent note? I had complete belief in the boys and their abilities. It was a case of performing to their potential and that's exactly what has happened in the two matches against Pakistan and South Africa. If you ask me, the script went on expected lines," the former Indian captain said.
Heaping praise on batting mainstay Virat Kohli, Shastri said the 26-year-old batsman has been the best-ever Indian performer on Australian soil.
"As far as I am concerned, I have never seen any Indian batsman perform better than Virat on Australian soil keeping Sachin Tendulkar and VVS Laxman in mind as they have done exceptionally well. Show me one Indian batsman who has scored four centuries in four Test matches. He has been phenomenal. He was dominant and that's the reason we carried the attack back to Australian camp in all the Test matches."
When asked if Kohli is destined to break all international batting records, he said, "I think that will be putting too much burden on one individual. He should be allowed to play freely and express himself in the best way possible."
Besides batting and bowling, the Indian fielders have caught the eye with their athleticism on the field, prompting Shastri to go to the extent of calling them one of fittest units in the world.
"I don't love looking back too much into the past nor am I interested in looking too far ahead. But I would like to say this with conviction that this is the best Indian fielding unit that I have seen in many years. This team has some amazing fielders and they are among the fittest in international cricket," he said.