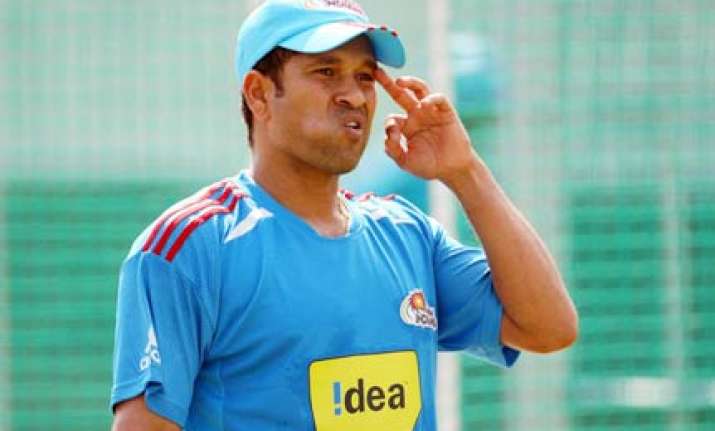 Bangalore, Oct 12: Maverick batsman Sachin Tendulkar today said although India have made a decent comeback after suffering a dramatic batting collapse, the second Test against Australia is still heading for a nerve-wrecking finale.
Australia have taken a 185-run lead with three wickets in hand and a full day's play is remaining.
"We are disappointed at losing five wickets in short period this morning. But, such is the game. I think, we came back pretty well and the bowlers have done a fantastic job so far. It is going to be a big day for us tomorrow," Tendulkar said after the fourth day's play.
"The match is at a critical stage. It is all about how we deal with pressure and apply ourselves," Tendulkar, whose 214-run knock played a major role in India's first innings total of 495 which gave the hosts a slender 17-run lead, added.
The 37-year-old right-hander said whatever be the result, it would be an exciting day of Test cricket tomorrow.
"It is exciting. When you know that they have scored 470-plus runs and then you are chasing and try to stay first and then get on to top of the game. It is exciting and we all look forward to these challenges," he said.
"We do not want to take anything for granted and it is going to get more exciting. Tomorrow is going to be a wonderful day," he said on the rival teams gaining upper-hand in turns in the ongoing match.
Tendulkar said would not be easy on the final day as cracks have begun to appear on the track.
"It has become slower. Cracks have widened and it is not an easy track to bat on. We need to give us some time to get adjusted to the bounce and the pace. We do not want to chase a big target. Hopefully our bowlers would make the target as low as possible tomorrow when they bat again," he said.
Asked whether he has finally taken his son's suggestion to hit sixes when on 90s, the experienced Mumbaikar said, "That was a job. I hope everyone is old enough to understand humour. Sometimes, you play those shots and sometimes you do not."
"If you look at the number of hundreds that I have scored so far and the number of the hundreds that I had completed with a six, I do not want to do that," he added.
Tendulkar credited his remarkable physical fitness to the support staff in the team.
"The support staff have been instrumental in keeping me fit and going. These guys have really worked hard. As for the rest, I was honestly determined to play because it was not only about runs but about time," he said.
Tendulkar said although all his big knocks are satisfying but the ones against top sides such as Australia are always memorable.
"To be honest I am just getting to know that I have scored 11 hundreds against Australia. I do not believe in counting. It feels nice as they are the top sides. When you score runs against top sides, it is satisfying and it has always been a great challenge to play against them," he said.
On his consistency, Tendulkar said he does not do anything "differently".
"Possibly, I am hitting more number of balls and Gary Kristen has really helped me. He throws millions of balls at the nets to all the players. In fact, both Gary and the bowling machine are competing. Gary does not seem to get tired. He has been instrumental.
"When the team is doing well and everything is working right for you, you want to better your performance each day. This is what I am trying to do. Every outing that I make, I get better and do something special by trying to keep everything simple," he added.
On playing the role of a mentor to youngsters like
Murali Vijay
and
Suresh Raina
, Tendulkar said, "I enjoy batting with them and it does not matter whether they are newcomers. Even, when I was a youngster, I always enjoyed interacting with the players."
"And, this is how you learn more about the game. I have played for 21 years and that does not mean that I know everything about cricket. It is important to be a student of this game and that is when you can actually learn more things and getting better."
Talking about the debate surrounding the Decision Review system, Tendulkar said if the technology is found to be fool-proof it should  be used.
"Last time I saw the hot spot was rather good and I was quite impressed with that. So, I thought it was good. If the umpires can get something fine and their decisions are close to 100 per cent then it is interesting.
"It is quite good and we need to be convinced. There were occasions in the past when I was not convinced at all. I thought the lines were not correct. They were my opinions but I was not convinced," he said. PTI