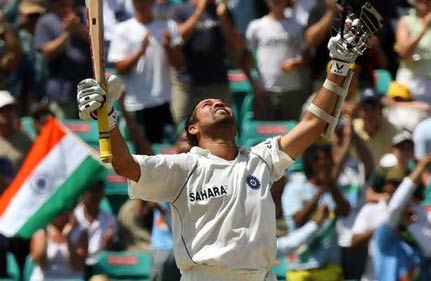 London: "Let us just say that Tendulkar is the Bradman of today - less hypnotic but scarcely less phenomenal", according to cricket writer John Woodcock, who reckons the Indian icon has every chance of making his 50th Test century this week.
In his column for 'The Times', Woodcock paid rich tributes to Tendulkar for his " insatiable" hunger to score runs and said comparing him to Bradman did not diminish the legendary Australian and his achievements.
"Bradman, I believe, would have been proud to play today's game as well as Tendulkar does, just as Tendulkar, like all of us, holds Bradman in awe. Let us just say that Tendulkar is the Bradman of today - less hypnotic but scarcely less phenomenal - and leave it at that," Woodcock said.
"There is every chance that Tendulkar will make his 50th Test hundred this week, against New Zealand, in itself an amazing achievement. But if Bradman had played the same number of Test innings (Tendulkar has played 280 to Bradman's 80), he would have finished with something like 100 hundred, given the rate at which he scored them," the veteran columnist wrote.
Woodcock said physically, Tendulkar is the shorter and stockier of the two and with the sub-continent being the breeding ground of the world's most natural batsmen, there could be a few more talented cricketers from that region in the future.
"What eventually it comes down to is opportunity, ambition and temperament. Tendulkar belongs to the school of those Indian batsmen ( Sunil Gavaskar and Gundappa Viswanath were others) who make up for a lack of inches with eye, wrist and insatiability. He uses a bat so heavy that Bradman would have laughed at it. You need only to pick it up to realise how strong his arms must be," he said.
"To say that Tendulkar, or anyone else for that matter, might be as good as Bradman does not diminish Bradman and his achievements. This is intended not as a comparison between Bradman and Tendulkar but as a celebration of a wonderful little Indian player - insatiable, resourceful, unflinching and orderly," Woodcock added.
Tendulkar, who just needs one more century to record an amazing feat of 50 Test tons, has been in red-hot form from the beginning of this year when India toured Bangladesh. His appetite for runs and centuries has only increased with advancing years.
The 37-year-old champion cricketer has accumulated a staggering 1270 runs from his last nine Tests (15 innings), embellished by six three-figure knocks that includes two double hundreds, for a Bradmanesque average of 97.69, a feat that fetched him this year's ICC Cricketer of the Year honour. PTI