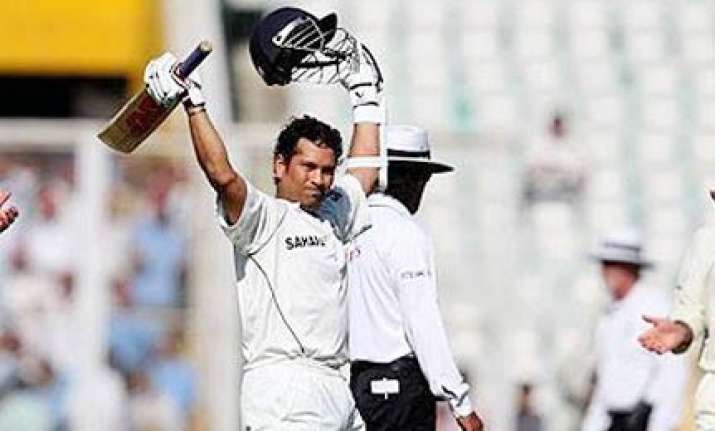 Mumbai, Nov 29: Andrew Flintoff today rated Sachin Tendulkar's second innings Test century at Chennai against England as the batting maestro's career-best and termed his words of gratitude to the visitors for returning to India to play the series after the 26/11 terror strike in Mumbai as a extremely touching gesture.
"The one that he scored in Chennai after the 26/11 attack in Mumbai," the 33-year-old former England all rounder told reporters when asked about the best century scored by the champion batsman in Test cricket.
"We flew back and it was decided that we will play in Chennai. England were in a great position. And we thought we are going to win the Test match. But Sachin had other ideas. He scored a hundred. I am never good at losing. However, at that instance it was fitting that Sachin, who was from Mumbai, hit the winning runs," he said.
"The best thing is after the game he thanked everyone of the English players for coming back to India. That was quite a poignant moment for me and rest of the boys," he said after interacting with aspiring cricketers here in a promotional event.
The England team returned home midway through the seven-match ODI series following the three-day terrorist siege of Mumbai before retuning to India to resume the tour and play in the Test series.
"He's an amazing man and a successful player. To play for so long as he has and to score so many runs as he has is amazing. He is somebody I have come to respect. I remember I had come to play for Lancashire under-13. And he was making his Test debut. He was only four years older than me. But he has been playing since then.
"I wanted to get him out. I wanted to impress him, get his respect. Good luck to him. Hope he doesn't stop at 50 (centuries) and goes on and on and on. He's been a good ambassador for the game," he added.
On Tendulkar's comparison with legendary cricketer Don Bradman, he said, "Never played against Bradman. I don't know. It is wrong in sport to compare heroes. In modern day cricket, Sachin is the best."
Flintoff said while the retirement of some of greats of the current crop of Indian cricketers would create a hole in the team, the country need not be bothered about it yet.
"It is a big question. I think (especially) when they are still playing and Sachin (Tendulkar) is in the peak of his life, isn't he? He keeps scoring runs. He could carry on for a long time.
"But you could possibly like Australia had (Matthew) Hayden, (Justin)  Langer, (Adam) Gilchrist, (Glenn) McGrath, (Shane) Warne all finished at the same time. It does leave a hole in the side and needs rebuilding process.
"However, India are number one and playing fantastically well. I reckon they can carry on for as long as possible," he added. PTI