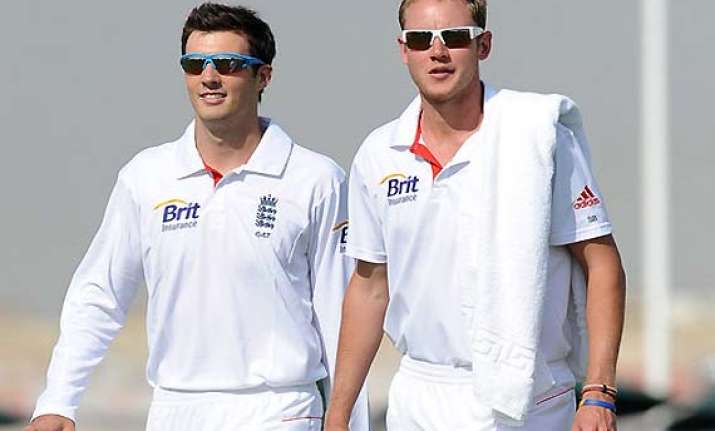 Kolkata, Dec 3: Hoping that the Eden Gardens pitch would "have something for all", England pacer Steve Finn Monday batted for fellow pacer Stuart Broad whose lacklustre form has been "an issue" for the English team ahead of their cricket Test match against India beginning Wednesday.
"He (Broad) is an exceptional bowler. He has had a tough time before with injuries. He has played 50-odd Test matches and knows he will come back. He is not many-a-miles away from where he wants to be. We are confident of him doing well here," Finn told media here.
Broad failed to take a single wicket against India in the first two Tests and his bowling form has been described by bowling coach David Saker as "an issue which England needs to confront".
Finn, who bowled six overs at the nets Monday, hoped the pitch for the Test would be similar to the practice wicket which offered something for all.
"The practice wicket has been playing very true, very well. If that is any reflection then I think it (match wicket) would be a good wicket with spin later on.
"The practice wicket played well with little bit of help for everybody I suppose. Hopefully, the Test wicket will too have something for everybody and will take turn as the game goes on," he said.
Admitting subcontinent pitches were a challenge for pacers, Finn said the fast bowlers will have a role to play in the match.
"May be as a pacer I am frustrated with spinners hogging the limelight. But then our spinners took 19 wickets in the last Test and rightly there is all talk about spin. But fast bowlers do have a role to play. World class pacers have come here and taken wickets. They find out ways of taking wickets. In these condition pacers are underrated," he said.
"Indian pacers did well picking up wickets at important times. Seamers will have a role to play. They can use the reverse swing, or may be bowl in short bursts. We have experience on playing on these surfaces and hope to use them in the match," added Finn.