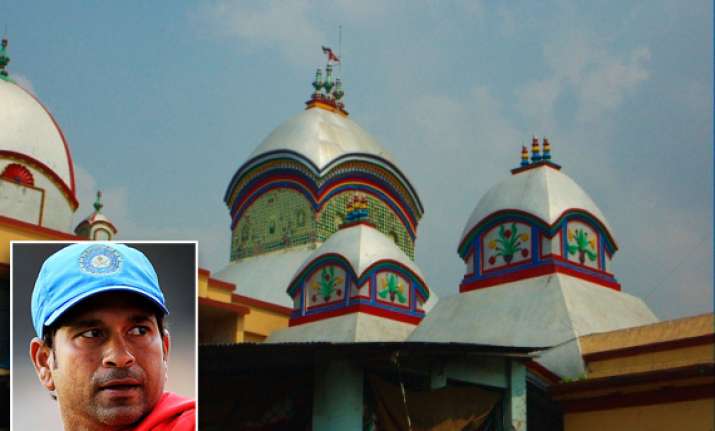 Kolkata, Nov 13: Batting maestro Sachin Tendulkar went to Kolkata's famous Kalighat temple to seek divine blessings on the eve of his century of international hundreds, but had to come back disappointed as delirious fans prevented him from coming out of his car.

A large number of fans surrounded his car and he could not alight from his car near the temple. The security personnel panicked and drove him to the team hotel.

Tendulkar, who always makes it a point to offer puja at  Kalighat whenever he comes to Kolkata, headed for Kalighat straight from Eden Gardens after the team's practice session.

The news of Tendulkar's arrival spread like wildfire and a large number of cricket buffs gathered near the temple.

They virtually mobbed Tendulkar's car, frantically trying to catch a glimpse of their hero. Such was the frenzy that Tendulkar could not get down from the car and turned back.

Earlier at the Eden, Tendulkar had an intense 35 minute session with the bat at the nets. Tendulkar had struck his 99th international century on March 12 in an ODI at Nagpur against South Africa.

Tendulkar has scored 51 hundreds in 182 Test matches and 48 tons in 453 ODIs.